Arsenal's Jack Wilshere puts 'mistake' in past and says: No more smoking
Jack Wilshere says there will be no repeat of the "mistake" which saw him pictured smoking outside a nightclub.
Last Updated: 07/10/13 1:44pm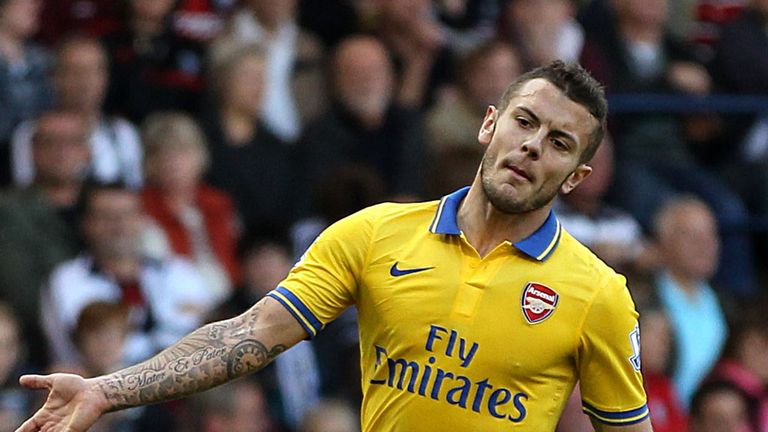 The Arsenal midfielder was out celebrating his side's Champions league victory over Napoli when a photographer caught him with a cigarette in his mouth.
Wilshere was spoken to by Arsene Wenger but returned to the team at West Brom, where his second-half equaliser earned a 1-1 draw and sent Arsenal back to the top of the Premier League.
And speaking to the club website, he said: "Players make mistakes.
"I am not a smoker. I spoke with the boss and he asked me what happened, I explained to him and we sorted it out.
"He put me in the team and hopefully I repaid him. I am not a smoker so I think that will be my last (cigarette)."
Wilshere now reports for international duty ahead of England's crunch World Cup qualifiers against Montenegro and Poland, and there will be no dressing-down from Roy Hodgson over his behaviour.
Hodgson said: "I trust Arsene to deal with that situation. He will make it clear, I'm sure, to Jack what his responsibilities are. I've had no problems of that nature with Jack, so I don't need to involve myself in it.
"Jack's an Arsenal player who also plays for England. If Arsene thinks it's also good for me to have a word with Jack I'll be more than happy to do so but, as far as I'm concerned, it's Arsenal's responsibility."
Character
Wenger praised the reaction of Wilshere after the midfielder helped Arsenal salvage a point against West Brom.
"He had trouble today to find the rhythm of the game," Gunners manager Wenger told Sky Sports. "But he has character as well. He doesn't give up, he continues to play his game and got a great goal.
"I believe he was fouled a few times, pushed over and didn't get the fouls he deserved."
Meanwhile, Wilshere admitted he did not find it easy playing out of position, but is determined to do his best for the team.
"It was a tough game, coming here is never easy. We are happy with the point," he said.
"It was a tough game for me. I am not used to playing on the wing, I'm still learning it, but I'm happy to do it for the team. I got a goal which was nice, I've always said I want to score more goals."