Sir Alex Ferguson says early David Moyes trophy win at Manchester United would be great
Sir Alex Ferguson believes it would be a great feat for David Moyes to win silverware with Manchester United this term.
Last Updated: 19/10/13 9:06pm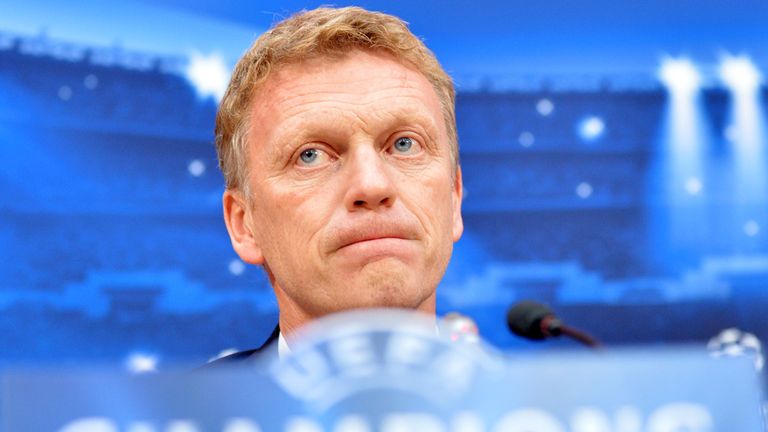 Moyes has endured a difficult start at Old Trafford since replacing his fellow Scot as manager of United during the summer.
United are currently eight points behind Premier League pacesetters Arsenal, but are undefeated in both of their Champions League games this season and have progressed in the Capital One Cup.
Ferguson is confident the former Everton manager can succeed with United with an abundance of support behind the scenes, but he reckons Moyes should not be intimidated by following in his footsteps.
"For David, winning a trophy would be a fantastic achievement," said Ferguson.
"No matter what it is - the League Cup, FA Cup, European Cup or Premier League.
"We've always had priorities obviously and David is aware of that but I hope he achieves it.
"The key for David is not to look to do anything better or less but just to maintain what the club has been for 20-odd years and keep the success going.
"It is not easy winning a trophy in our league because you could say there are six teams fighting for the league.
"He has great support at the club. It is a fantastically-run football club. There are absolutely no issues about it. Every club needs a little bit of luck and hopefully we'll get the luck."
Pressure
Moyes is certainly under pressure, but Ferguson is convinced there will be no interference from the Glazer family.
"I remember saying to the board back in David [Gill]'s time the manager is the most important person at the club,'' said Ferguson.
"He always will be. Whether it's Alex Ferguson, David Moyes or Matt Busby.
"The most important person in the club is the manager and that must always be sacrosanct.
"In fairness, the club have always stuck by that rigid belief."