Norwich forward Leroy Fer defends actions at end of 0-0 draw with Cardiff
Leroy Fer has defended his actions after being criticised for poor sportsmanship by Cardiff manager Malky Mackay.
Last Updated: 28/10/13 9:07am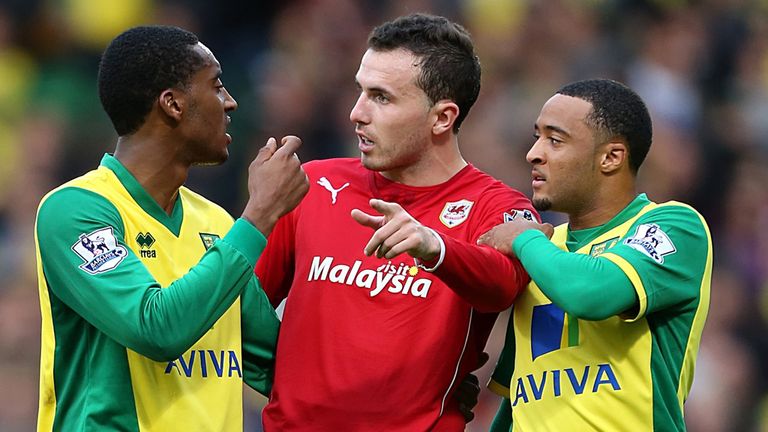 In stoppage time, Cardiff goalkeeper David Marshall had thrown the ball out due to an injury to Norwich midfielder Alex Tettey.
Ricky van Wolfswinkel's subsequent throw-on went to Fer, who rolled the ball into the empty net as Marshall awaited a return pass, sparking an unseemly on-pitch fracas.
Fer said: "I just looked at the referee and he did 'play on' with his hands so I think the goal had to count.
"I'm a little bit confused on that one. I meant to put it in because I wanted to win the game."
Mackay understood why the players had got so heated over the incident - but insisted that there had been no rancour between the respective benches.
"Immediately Colin (Calderwood) and Chris (Hughton) came up and said if Mike Jones gives it we will let you walk it into our net. There was complete calmness from both benches," said Mackay.
"The boys on the pitch were obviously a little bit more heated but I think common sense prevailed. In this day and age what you saw today was something that is not good for the game.
"Like I say at the time I didn't think he meant it but if he did and wanted to win the game then he needs to take a long, hard look at himself because that is poor sportsmanship.
"There is a lot of respect in the game and you lose that quickly with those type of actions."
Norwich manager Hughton added: "It is not a way you would want to win a game. We should have won it by taking some of the chances we had.
"If the referee had allowed it then of course there would have been a major debate. It would have left a big question mark if he hadn't brought it back.
"I don't know if the keeper left it on purpose or the pace beat him. I would have to see it back.
"I know it's a contentious one and it wouldn't have left a nice feeling and as a manager you would have a decision to make."