Thibaut Courtois waiting on Chelsea's decision over his future at Atletico Madrid
Thibaut Courtois has admitted that it will be entirely up to Chelsea whether he returns to Stamford Bridge next summer.
Last Updated: 30/10/13 3:45pm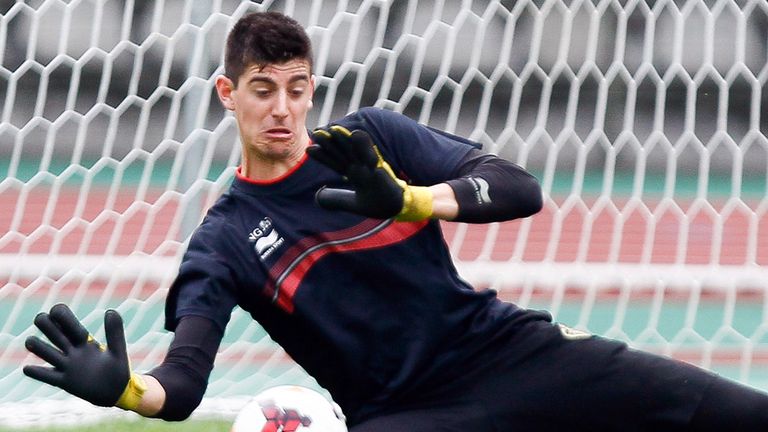 The goalkeeper is enjoying his third consecutive season out on loan at Atletico Madrid and has been a key player during his time in Spain.
He would have had to compete with Petr Cech for regular football if he had gone back to the Blues this summer and admits it had been his preference to remain with Atletico to boost his chances of being Belgium's No.1 at the World Cup.
But the 21-year-old will have no say over where he plies his trade next term and will leave it up to Chelsea manager Jose Mourinho to decide.
"We must wait, time will tell," Courtois told Sportium.
"This year I wanted to stay at Atletico because I wasn't sure if I would play at Chelsea. Besides, I was excited to play in the Champions League with Atletico and wanted to be a starter with a view towards the World Cup.
"But now everything depends on Chelsea. I had a conversation with Mourinho and decided it was best to stay here.
"I belong to Chelsea, but Atletico are the most important club of my life. I've got titles and prestige in a short time."
Courtois has helped Diego Simeone's Atletico make a superb start to the season but he knows there is still a lot of hard work ahead.
He said: "We are working very hard for the team to maintain this level all season, but the road is very long. We want to get as far as possible and we are showing that we have the team for it.
"It has improved a lot since Simeone arrived. He is one of the best coaches in the world, he's well motivated and gets the best out of everyone. He has instilled his winning mentality."