Arsenal's Aaron Ramsey won't rest on laurels after 2-0 win over Liverpool
Aaron Ramsey hopes to keep his scoring run going and says Arsenal will aim to maintain their lead at the league summit.
Last Updated: 02/11/13 9:16pm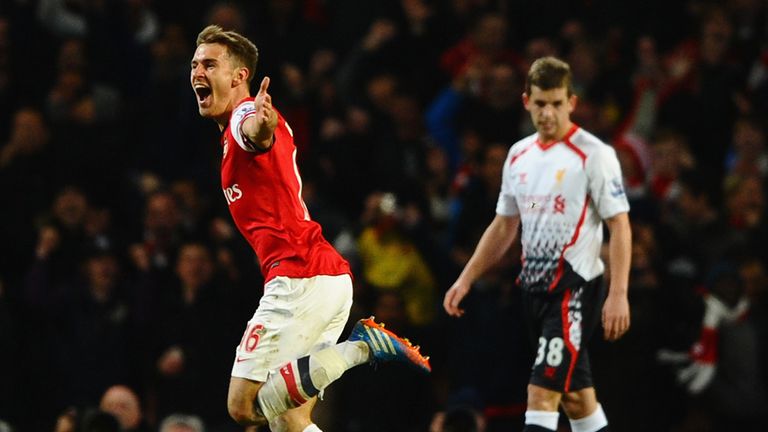 Ramsey netted a wonderful goal at the Emirates Stadium to seal victory after Santi Cazorla had broken the deadlock in the first half.
He is adamant that he will not rest on his laurels and he aims to become a consistent scorer like midfielders such as Frank Lampard and Steven Gerrard.
Reflecting on his goal, a powerful strike on the half-volley from outside the area, Ramsey told Sky Sports: "I just thought why not try an effort from distance and thankfully it went in.
"I was just waiting for the ball to sit up nicely so I could strike it cleanly, and I managed to do that.
"I'm feeling a lot more confident in front of goal and that is up there with the best I've scored.
"I've looked up to players like that (Lampard and Gerrard) over the last ten years or so and the amount of goals they get is quite remarkable, so that is what I am aiming to do."
Arsenal's victory opened up a five-point gap at the top of the table and Ramsey is confident they can sustain a title challenge.
He said: "We really enjoyed it. Everyone was up for it and the fans were right behind us from the off.
"It was very important this year to get off to a good start and we have got a nice little gap there now so hopefully we can maintain that, because we know our form in the run-in to the end of the season has been second to none over the last few seasons."