Arsene Wenger would welcome change to laws to cater for goalkeeper injuries
Arsenal boss Arsene Wenger would welcome a change to the laws of the game which would allow an additional substitution.
Last Updated: 08/11/13 2:14pm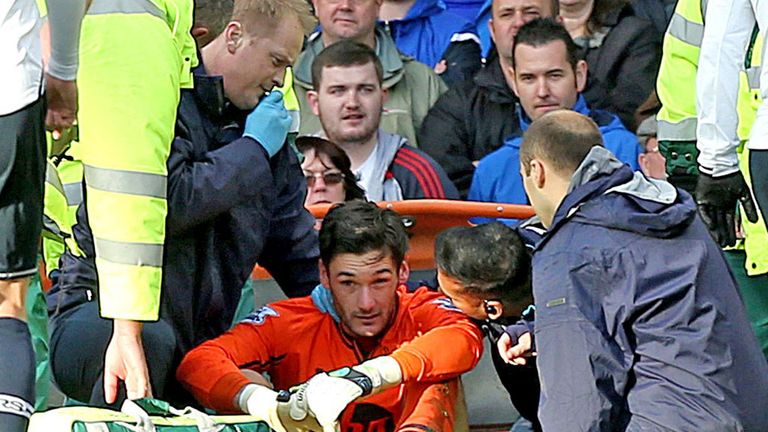 Tottenham boss Andre Villas-Boas was criticised for allowing Hugo Lloris to remain on the pitch after he received a blow to the head following a collision with Everton striker Romelu Lukaku in last Sunday's Premier League game at Goodison Park.
Wenger believes that in those situations, managers should be able to replace the goalkeeper, even if all other substitutes have already been used, although Spurs could have sent on Brad Friedel but chose not to.
"I am for a change of rule on that because imagine that England leads 1-0 in a World Cup final after 80 minutes, that you have made your three changes and exactly the same situation happens to your goalkeeper," he said.
"Would you then decide to take the goalkeeper off and put the right-back in goal and play with 10 men? Or would you be in favour of leaving your goalkeeper on?"
"I believe in this exceptional circumstance and down to the fact that a goalkeeper is a special position - you would allow the goalkeeper to come off and replace him with the other goalkeeper, even if you have changed your three players.
"Down to medical reasons that has absolutely to be changed in our game."
Asked if in the same situation he would have substituted Lloris, Wenger replied: "I listen to the medical staff on that front. Head injuries are special injuries where I take only advice from our doctor."
Meanwhile, Wenger has backed the Football Association's latest steps in retrospective disciplinary action and feels they should prevent players thinking they can get away with being a "killer" out of sight of referees.
Fulham's Sascha Riether has been banned for three matches after accepting an FA charge of violent conduct for stamping on Manchester United's Adnan Januzaj towards the end of last weekend's 3-1 defeat at Craven Cottage.
"I am 100 percent (supportive), because you wouldn't like to think that somebody could escape dangerous play just because it hasn't been seen well by the referee and misjudged by the referee," he said.
"This sacrosanct rule that once it has been judged by the referee nobody can come back (and be punished) means you could be a killer just because the referee doesn't have the perfect angle to see what you did."