Premier League: Swansea City goalkeeper Gerhard Tremmel wants to score
Swansea City goalkeeper Gerhard Tremmel says that he hopes to emulate Asmir Begovic's goalscoring exploits.
Last Updated: 09/11/13 2:00pm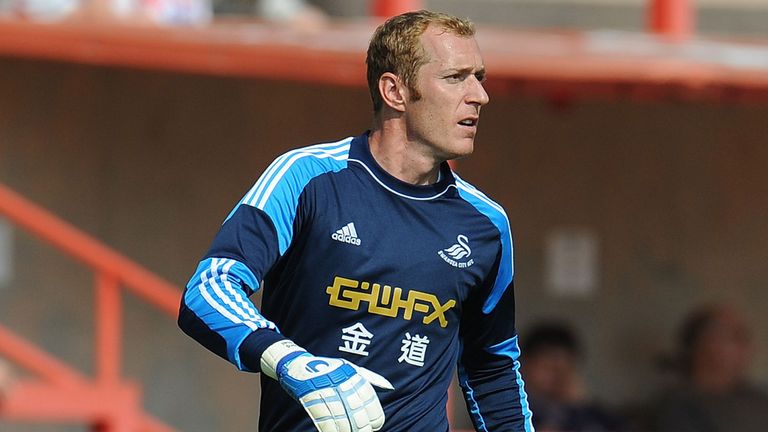 The Stoke City number one hit the back of the net during the opening minute of his side's 1-1 draw at home to Southampton, becoming only the fifth stopper to get on the scoresheet in the Premier League.
Tremmel is likely to come up against Begovic due to the suspension of Michel Vorm for Michael Laudrup's side, and the German admits that scoring a goal is something he has thought about.
"I saw Begovic's goal last week. It's one of my aims. I have not scored a goal yet," he told the Daily Star.
"I have gone forward a few times in the last minute for a corner and I've touched the ball with a header, but I have never managed to get one into the net. There is not much time left for me."
However, the 34-year old does have some sympathy for Artur Boruc, the goalkeeper who conceded Begovic's 90-yard strike.
"It is definitely not the best feeling to concede like that, especially for Boruc who has had a good season so far," he said.
"I've never conceded one, but of course I'll be on my guard as Begovic can kick the ball a very long way."
Tremmel also spoke of the significance of the Southampton tie following a 1-1 Europa League draw with Krasnodar Kuban, a game in which the Swans shipped an injury-time equaliser for the second time in a fortnight.
"It's a very important game for us. If we don't win then we are getting close to the relegation zone. Obviously we don't want that," he said.
"Stoke are a different team. What we can learn from the goal we conceded in the last minute in Kuban is that we have to be sharper with high balls.
"We have to keep the ball on the ground, pass it quickly and try to create chances."