Premier League: Christian Benteke says he will will soon be back to his best at Aston Villa
Christian Benteke admits he is still not 100 per cent fit, but insists he will soon be back to his best.
By Kristof Terreur
Last Updated: 09/11/13 2:27pm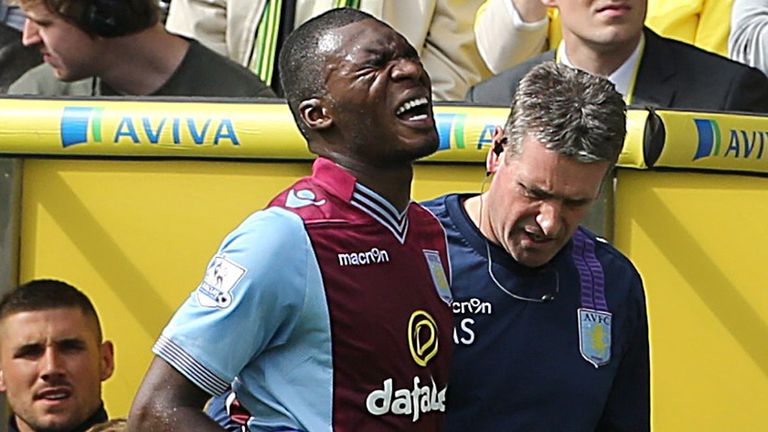 The Belgium international was one of the stars of the Premier League in his debut season last term - but injury has curtailed his progress during the current campaign.
He still has four goals to his name in the seven games he has started, but he has not scored since mid-September.
"I don't feel as strong as last season, as I had this injury in the hip," he told Het Nieuwsblad.
"Injuries like that always take more time to heal. I try to compensate it by working harder, but I'm not on my level yet. Don't forget I didn't play for one month.
"I missed a penalty against Everton. I don't look for excuses. I chose a corner, the keeper saved it."
Benteke insists that he will soon be back on the goal-scoring trail.
"I'm not worried about my goal drought. I was injured for a month. There's always pressure - that's part of the job," he continued.
"Being a striker is not easy. In some periods you score goals without realising how you do it. And sometimes you have darker periods."
Lukaku
He also insisted that he was delighted to see his good friend Romelu Lukaku doing so well.
"I'm not jealous at Romelu Lukaku. He has worked hard for this and deserves the goals he made last months," he said.
"In football everyone has his period of glory, his period of success. I will never be jealous, I will try to do better. Romelu and I are good friends. We wish each other all the best."
Benteke did beat Lukaku this week when he won the 'Talents d'Afrique' award which recognise the top scorer in Europe's top leagues with African descent.
"It's always nice to win an award. I'm proud. It's a recognition for my second nation, Congo. I'm Belgian, but I still feel Congolese," he said.
"At home we still eat Congolese food, I listen to Congolese music and with my family I still speak our language. But as a footballer I'm still Belgian, of course."