Premier League: Wayne Rooney insists Manchester United can still win title
Wayne Rooney insists Manchester United remain confident they can successfully defend their Premier League crown.
Last Updated: 10/11/13 4:11pm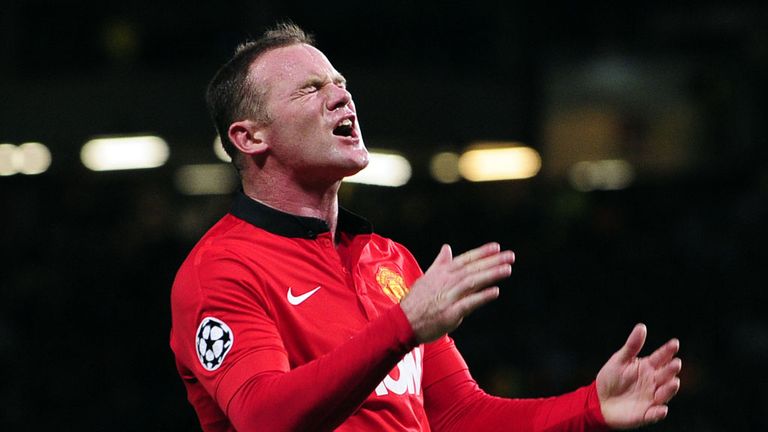 United are eight points behind leaders Arsenal and entertain Arsene Wenger's side this weekend as part of Sky Sports' Super Sunday hat-trick.
Defeat on Sunday would place huge question mark over United's title-winning credentials this season but Rooney insists his team remain full of confidence.
"We always believe," he said. "We believe we can go on and win the league.
"We have been in this position before and gone on to win titles so there is no reason why we cannot do it again. We are hitting form at the right time.
"If we can continue that and get to Christmas within touching distance, or maybe even at the top, we will be in a great position."
Rooney is back at full fitness after admitting he had been struggling physically when United played noisy neighbours Manchester City and title rivals Chelsea earlier this season.
His form has been impressive in recent matches and Rooney hopes he can take that into the weekend encounter with Arsenal
"I hope I can make a difference this weekend," he said. "But we have many players who can win us games.
"It is not about one person. It is about us all working together to get those three points.
"We are starting to adjust to the training and the new ideas from the manager. We are playing a bit better and have been getting good results.
"Overall, we are in a good place. I am sure if we can win on Sunday it will make us even stronger and give us that belief that we can go on."
"The atmosphere at Old Trafford for big games is great," he added. "I am sure the fans realise this is a really important match for us and will be at their best.
"When they are like that it brings energy into our play. We will need them this weekend."