Premier League: Manchester United forward Will Keane ready to impress after injury
Manchester United starlet Will Keane insists he is ready to put his injury nightmare behind him.
Last Updated: 16/11/13 1:33pm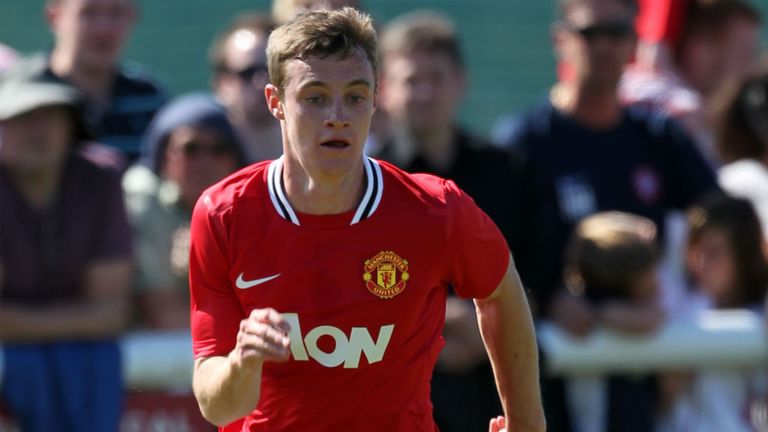 The England Under-21 striker has long been considered one of United's finest prospects, and that showed when Sir Alex Ferguson handed him his league debut in late 2011.
But the 20-year-old suffered a cruciate knee ligament injury which meant he missed all of last season, and only now is he back fully fit and ready to push on again.
"It was frustrating a lot of the time," Keane told the club's official website.
"It wasn't hard to begin with, as you know you've got to face that and it sets its own challenge. You focus on doing little things, setting markers and trying to make certain goals, whether it's on the bike or swimming.
"When it gets to four, five or six months down the line, that's when you start to level off and it becomes a case of slogging it out in the gym every day. When you see all the players go out for training, that's the worst part.
"Thankfully, I had physio Richard Merron with me one-to-one pretty much the whole time. He kept my spirits high, raised morale and was a great help."
Keane is confident he can comeback stronger than before.
"Once you have had a serious injury, you look into it a lot more and realise many of the top-class players have had setbacks, come through it and managed to return to the same level," Keane explained.
"I feel good physically and my fitness is good. It's just a case of getting little things right.
"In my first games, my sharpness was a little bit off and also the timing of my passing. It will come back in time - I've still got the knack for scoring, so that's been good! I look to score in every game I play. If I come off the pitch having not scored, I am always disappointed. I set myself high standards."
During his time on the sidelines Keane went through rehab at the same time as club captain Nemanja Vidic, and he has heaped praise on the Serbian.
"Nemanja had little niggles at the time and he came back just as I got injured," he said.
"He was just starting to get over his injury, which was the same one that I had.
"He was very understanding and knew what it takes to get back playing, so I spoke to him quite a bit about it. I also spoke with other players more in general about my attitude towards it and how to approach any long-term injury."