Roberto Martinez says timing wasn't right when discussing Liverpool job
Roberto Martinez has no regrets at not landing the Liverpool job because it 'wasn't the right time or the right move'.
Last Updated: 23/11/13 12:19pm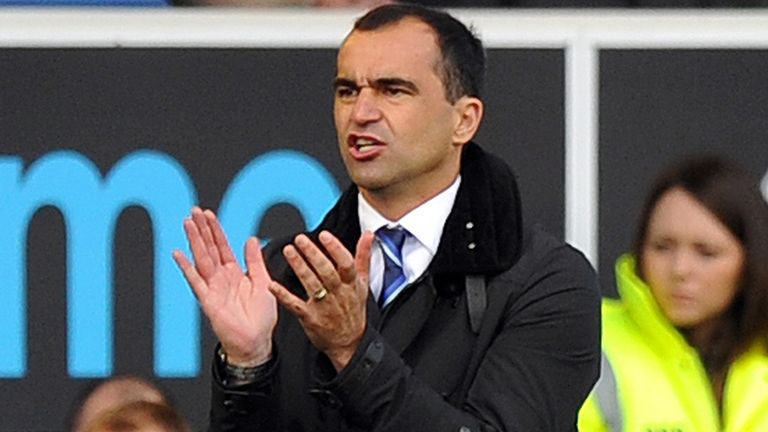 The Spaniard met with Reds owner John W Henry in Miami during the summer of 2012.
With Kenny Dalglish having been relieved of his managerial duties at Anfield, Liverpool were in the market for a new boss.
Martinez's work at Wigan Athletic caught their eye, with his footballing philosophies matching their own.
No agreement was reached, though, and Martinez would spend another 12 months with the Latics - guiding them to FA Cup glory, before tumbling out of the Premier League.
He is now on Merseyside, having taken the reins at Everton, and believes it was his destiny to end up at Goodison Park as he prepares for his first derby date with Liverpool on Saturday.
Martinez said in the Liverpool Daily Post: "It's been a question asked many times.
"Things in life happen for a reason and it was well documented that summer. It was a time of trying to find out what was next from my point of view and Wigan Athletic at that time.
"Everything ended up that it wasn't the right time or the right move. I always believe everything in football and life happens for a reason and I am extremely proud and honoured to be manager of Everton."
Liverpool eventually plumped for Brendan Rodgers, a man who furthered his own coaching reputation while building on the foundations put down by Martinez at Swansea City.
On his weekend opponent and their ties in South Wales, Martinez added: "I'm sure it was a big part of Brendan Rodgers' management career.
"In my time at Swansea, we started a way of bringing a different way of playing. It wasn't an easy introduction in 2007 but since that point, I think it was a philosophy that has been part of the club since.
"I think Brendan followed that through in that style so we share many aspects of the game, down to the same convictions.
"That is a good chapter, to share the same squad of players and the same team working towards the same aim."