Premier League: Wojciech Szczesny expects Arsenal silverware
Wojciech Szczesny is sure Arsenal will end their trophy drought if they continue to maintain their own high standards.
Last Updated: 21/11/13 3:51pm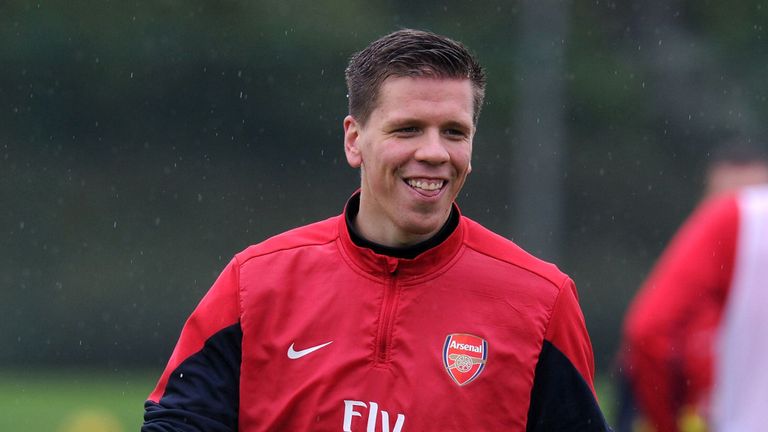 The Gunners have not lifted any silverware since their 2005 FA Cup triumph, but currently sit top of the Premier League table, two points clear of Liverpool after 11 games played.
Poland goalkeeper Szczesny, 23, says confidence is high at Emirates Stadium after the club's excellent start and he is convinced success will come their way in the current campaign.
"I don't want to say nobody can challenge us for a trophy," said Szczesny, "but if we're at our best, we'll win a trophy and that's all that matters.
"I wouldn't say we've proved everyone wrong and passed all the tests. I'll say that when we get our hands on a trophy in May.
"I think what's important is what we believe in and we believe that we are good enough with the players we have got and the work we are doing to win the Premier League.
"We have shown that to people over the last six months or so. We know that if we just carry on doing the same thing, we will show people that this team and these players are good enough to win a trophy without any extra additions or extra work that people are talking about. We certainly believe we can do it.
"We need to make sure we continue doing what we have been doing recently and keep getting the results."
No rest
Arsenal's 2-0 UEFA Champions League round-of-16 second-leg victory away to eventual winners Bayern Munich in March kick-started an 11-game unbeaten run to close 2012/13.
This season, the Gunners have already bounced back from three defeats in league and cup with a victory, and will be aiming to repeat that sequence when Southampton come calling on Saturday.
Szczesny added: "It's quite an enjoyable time to be around the training ground. When results go your way, everything seems to be in the right place and everyone in a great mood, so we are all happy.
"But what we want to do is make sure we keep it going and not just rest on our laurels and think we have done it now.
"There is no reason not to (have that belief). When you look at the last few months - almost 12 months really, because it is not only this season - we've been doing well.
"It was the last two or three months of last season, where we went unbeaten for a few games. We are confident that we see the quality is there and we know that when we play at our very best and do it consistently well, we can beat anyone basically.
"A couple of years ago, there was a case of not being consistent enough individually and as a team but now you can see that whoever comes into the team, whoever comes in does a fantastic job. We are at our best at the right time and it seems to be bringing results."