Premier League: Everton's Leighton Baines hopes to return during the festive period
Leighton Baines has given Everton supporters a boost by suggesting he may return from injury sooner than expected.
Last Updated: 11/12/13 3:13pm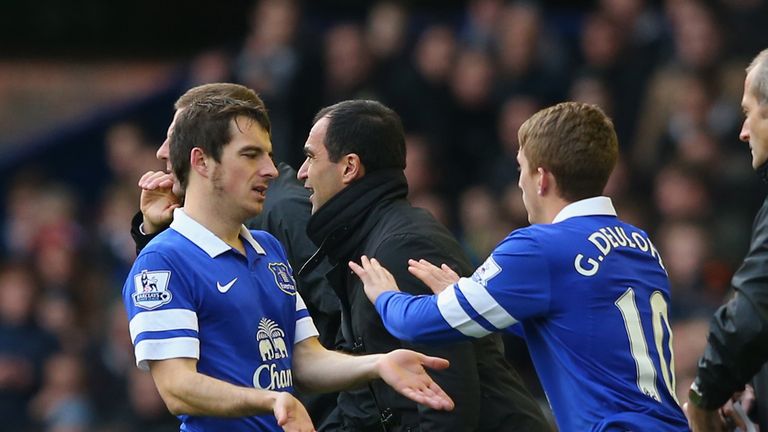 The England defender, who turned 29 on Wednesday, broke a toe in the Merseyside derby on November 23 leading to Everton manager Roberto Martinez claiming he could be sidelined for up to six weeks.
But Baines has revealed he is taking his recovery one step a time, insisting he remains optimistic he can have some involvement in his side's games during the busy festive period.
"The manager said early on it's quite a broad timeframe that you can be looking at," he told the club's official website. "We thought about different things, injections and stuff, but we didn't know whether that would set me back further so we are just trying to let it heal naturally at the moment.
"Obviously the schedule thickens up around Christmas and New Year so you like to think you would be back and available to help the team at that point, but it's just one of those things. You have to wait and see.
"I've not been able to do a lot to treat it because it's a break, so I've just sort of tried to see how it heals really and take it a day at a time."
Baines is not used to being sidelined and has missed very few matches for Everton due to injury in recent years.
"I have found it really difficult not being involved," he explained "You do miss it but I have been quite lucky the last few seasons with injuries. I am trying to use the time as best I can."
Everton have taken seven points out of a possible nine in the games Baines has missed and the left-back hailed Bryan Oviedo - his replacement in the side - as well as the team and for their recent performances.
"I think both (Oviedo and the team) have done brilliantly," he said. "The results we have got have been great, we couldn't have asked for much more over the three games.
"It is not an easy thing to do when you've been out the team a long time so Bryan deserves even more credit, not just for how good his performances have been but his professionalism in the way he has looked after himself.
"Thankfully it has made sure the team has got good results."