Premier League managers offer their support to Cardiff City boss Malky Mackay
Managers have rallied behind Malky Mackay, who has been told to resign or be sacked by his Cardiff chairman Vincent Tan.
Last Updated: 20/12/13 2:35pm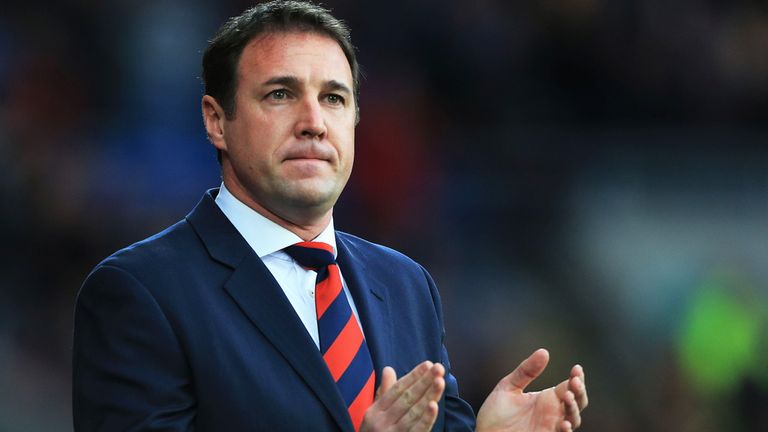 The future of 41-year-old Mackay remains uncertain after he missed Friday's press conference ahead of a weekend clash with Liverpool, with assistant David Kerslake taking his place.
This comes after it emerged that Tan had emailed the Scot on Monday, outlining his grievances at length and issuing an ultimatum regarding his job.
Speaking at his own club's press conference, Hull City boss Steve Bruce expressed bafflement at the situation at Cardiff but admitted it was an unfortunate by-product of the current state of the game.
"I don't think anything surprises us anymore because of the way football has gone," said Bruce.
"They should be thanking Malky you would have thought, at least looking at from the outside anyway.
"He has done a wonderful job and is making a great fist of keeping them up. But again, as I've said, it is the industry we are working in. We keep talking about it.
"You look at the most successful clubs, the big, successful clubs, and the one thing they all have is continuity."
Celtic boss Neil Lennon was equally bemused by Tan's treatment of Mackay.
"I don't understand it at all, I don't know what more he can do?" questioned Lennon.
"He has taken Cardiff up for the first time in 50-odd years and consolidated them in the Premier League.
"He conducts himself fantastically well. He has been immaculate on and off the pitch and in the way his team plays for him. It is a very difficult situation to comprehend."
West Ham boss Sam Allardyce criticised the ultimatum given to Mackay, saying it is not a decision a manager should have to make.
"It is a decision for the owner to make, not for Malky. He needs to sit there and what will be, will be.
"If they decide to dismiss Malky, I'm not sure how damaging it will be, only time will tell."
Everton manager Roberto Martinez, who has enjoyed a superb start to his reign at Goodison Park since replacing the Manchester United-bound David Moyes in the summer, explained that the relationship between manager and chairman is key.
"It is fair to say that that relationship is the most important at a football club," explained the Spaniard, who is working under Bill Kenwright.
"I cannot comment about other clubs because I don't know the ins and outs but it makes me even more satisfied with what we have got at our football club.
"All I have got is support and I feel this is the start of everything that happens at the football club. It is infectious in a positive and healthy way."
On Thursday, Liverpool boss Brendan Rodgers expressed his astonishment at the treatment of Mackay, who he worked with during their time at Watford.
"I find it incredible all the talk about Malky. I find it astonishing what he has had to go through," said Rodgers.
"This is a guy who walked into Cardiff after they had lost in the play-off semi- finals and they waited two weeks to sack the manager Dave Jones on the day we (Swansea) were in the final - which I found strange.
"Malky walked into the club with 10 players that summer and he totally transformed the mentality of the club.
"He took them to the Carling Cup final, to a play-off place and just lost out and the following season took them to the championship and promotion.
"He has had great results this season and is going to go on and be a great manager at a big club and I find it absolutely astonishing there is talk about him leaving there."