Premier League: Cardiff City striker Andreas Cornelius staying focused on football
Cardiff City striker Andreas Cornelius says he is focusing on football regardless of the club's managerial situation.
Last Updated: 31/12/13 2:37pm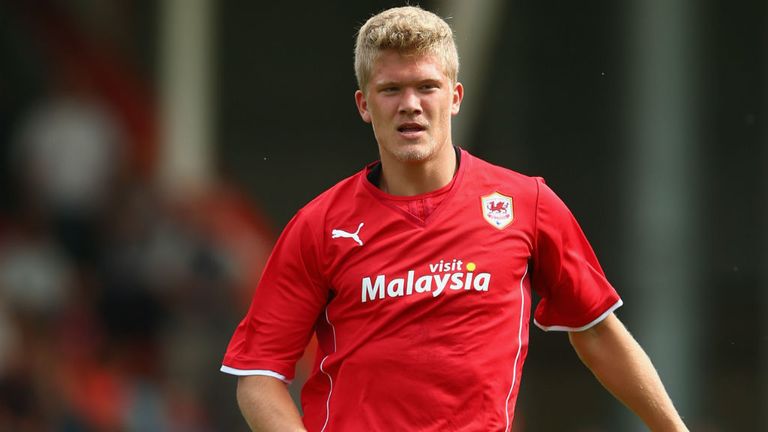 The 20-year-old became the Bluebirds' record signing when former boss Malky Mackay spent a reported £8million to secure his services from FC Copenhagen during the summer.
Mackay has since been controversially dismissed by owner Vincent Tan, but Cornelius insists that his only concern is to establish himself in the first-team after managing just seven Premier League appearances so far.
"It does not matter, I just have to do my best," he told Wales Online. "It is not the manager, it's me.
"I need to do my best and show the new manager I am good enough to play. I don't know who the new manager will be to be honest. We don't talk about it.
"Everything has been all normal as it can be for us. It's not been too difficult. I have not really thought about it too much.
"I know Malky Mackay is not here anymore, but as players when you are out on the pitch you just do what you have to do."
Although Cornelius is yet to make any kind of impact in England, the Denmark international is adamant that his hefty price tag has not been a factor in his slow start.
"I am always someone who wants to prove himself. The price does not really affect me," he said.
"I don't care about the price tag my aim is just to do my best. I want to show the supporters what I am capable of and I am working towards that.
"I had my first 45 minutes against Southampton and it was difficult being 3-0 down, but I was happy to get on.
"It was difficult, but I worked hard and did what I could. I will always try my best for the team."
A number of injuries have hampered Cornelius' introduction to life at Cardiff and he admits that it has not been an ideal start as he looked to prove himself early on.
"It's been frustrating to be out with the injuries, that's for sure," he said.
"When you come to a new club you do want to show what you can do right from the start.
"You want to show how good you are, but it's very difficult with an injury and then you can't get back into the side because there are so many good players ahead of you.
"I want show what I can, but I think I have to be patient.
"When I do get my chance though I have to grab it and do my very best."