Manchester United goalkeeper David de Gea pleased with his contribution
David de Gea is "very settled" at Manchester United and the goalkeeper says he is happy with his form so far this term.
Last Updated: 04/01/14 3:37pm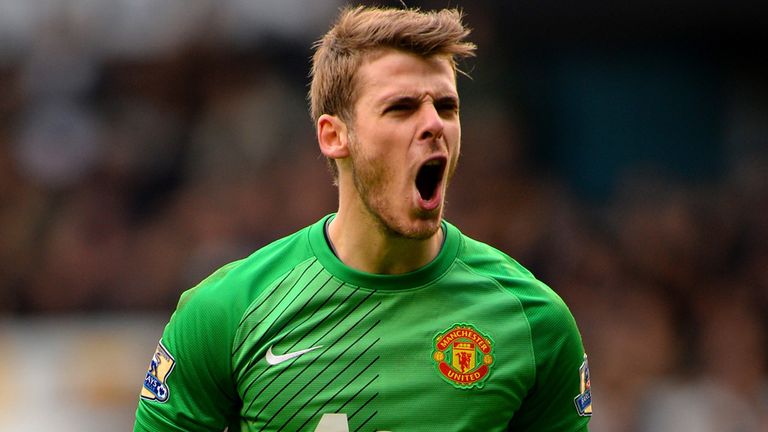 The 23-year-old Spaniard has arguably been the most consistent performer in David Moyes' debut campaign as manager which has seen United win only 10 of their Premier League matches.
There were concerns raised over De Gea's ability to handle the physical side of the English game in his first two seasons after moving from Atletico Madrid but he has now put those behind him.
"I am pleased with my contribution so far," said De Gea. "I feel very settled here and I am happy with the way I am playing.
"I am still learning and improving all the time. That is important. I hope to carry on doing that and keep my spot in the team."
The New Year's Day home defeat to Tottenham halted United's six-match winning run but De Gea feels there are still enough encouraging signs for the club to be optimistic for the future.
"We have picked up plenty of momentum as the season has developed," he said.
"It was a real shame we couldn't get three points against Tottenham but we are playing well now.
"We need to keep performing and win as many games as we possibly can."
History
Nevertheless, it seems improbable United can retain their Premier League title, with a top four berth the only realistic hope.
It places more emphasis on the cup competitions. And as a relative newcomer to Old Trafford, De Gea is among the vast majority at United never to even play in an FA Cup final, let alone actually win the competition.
Sir Alex Ferguson never wasted an opportunity to underline the importance of a tournament United have won more often than anyone else.
And with home advantage in Sunday's third round tie with Swansea, De Gea sees no reason why they should not progress.
"The FA Cup is a competition with a lot of history," he said.
"There is a lot of romance associated with it and it would be terrific to win it.
"Being at home is a boost because we will have so many fans behind us.
"Still, Swansea are a tough side and it will be a complicated game for us."