Arsenal's Theo Walcott escapes FA punishment for gesture to Tottenham fans
Arsenal forward Theo Walcott will not face FA action for the gesture he made to Spurs fans during Saturday's FA Cup tie.
Last Updated: 06/01/14 6:38pm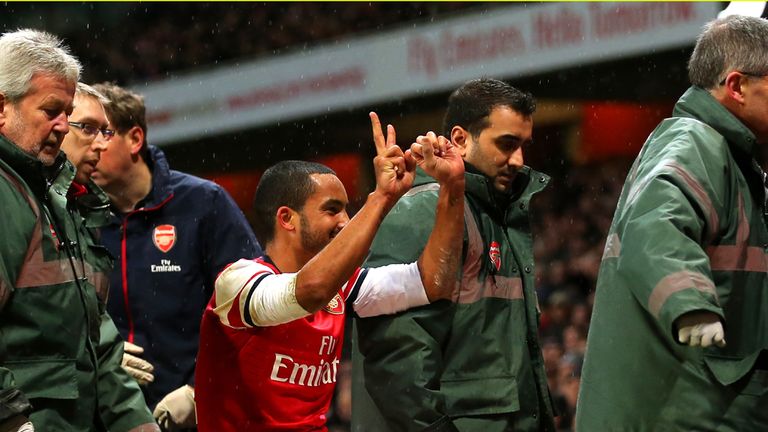 The England international, 24, was being stretchered from the pitch having suffered an injury when he made a 2-0 sign to the away supporters, who responded by throwing several missiles in his direction.
The FA has reminded Walcott of his 'responsibilities' after reviewing the incident and will not issue any punishment, but it called on the clubs to take severe action against fans who hurled objects.
A statement suggested that Arsenal and Tottenham should even issue life bans if they identify the culprits.
It read: "The FA has contacted both Arsenal and Tottenham Hotspur to seek their observations in relation to objects being thrown from both a home and away section of the crowd at different times during Saturday's FA Cup third round tie.
"The FA condemns any such acts and will liaise with both clubs and the Metropolitan Police to identify those responsible and support the strongest sanctions available, including life bans.
"Meanwhile, in relation to the same fixture, The FA has contacted Arsenal's Theo Walcott and reminded him of his responsibilities regarding a 'score-line' gesture he made in front of away supporters during the game. The FA will not be taking any further disciplinary action."
Arsenal are expected to supply CCTV footage to help identify any offenders.