Manchester United boss David Moyes needs help from Alex Ferguson
Former Manchester United Youth team manager Eric Harrison says David Moyes needs to turn to Sir Alex Ferguson for help.
Last Updated: 09/01/14 5:57pm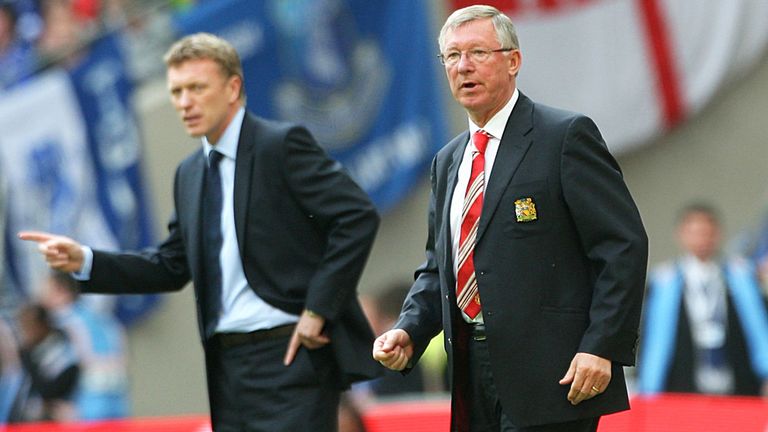 Manchester United will be looking to avoid a fourth straight defeat when they face Swansea this weekend and Harrison says under-fire Moyes must turn to Ferguson for help and advice.
The 2-1 defeat at Sunderland in the first leg of the Capital One Cup semi-final on Tuesday was United's third in succession - the first time they have lost three on the trot in almost 13 years.
Harrison told Sky Sports News: "I'm 100% for David Moyes, I really am, things are going bad for him and all that. The look on his face when he's on TV I feel so sorry for him.
"Sir Alex Ferguson will be having a word with him there's no question about that, but he won't be saying you've got to do this and that. He will do it nice and quietly.
"I think the pair should get together quite a lot and he should listen seriously to Sir Alex."
When asked if he saw Moyes turning things around at Old Trafford, he added: "At this moment in time, no."
Harrison also believes that Moyes made a big mistake in clearing out Ferguson's backroom staff and replacing them with members of his own staff from his time at Everton.
"In hindsight it does look like a mistake, I don't want to criticise anyone but I've got to be honest because if I'm thinking that why shouldn't I say it, like most of the Man United supporters," he added.
"They certainly should have kept the staff that they had, they shouldn't have brought so many in from Everton."
But former United assistant manager Steve McClaren is convinced that Moyes will turn things around at Old Trafford.
The Derby boss said: "Of course it's normal, it's football. David Moyes is a great manager he's proved that. He's the right man for the job and given time he'll prove that.
"And that's what you need, you need a thick skin at this stage of your career at Manchester United.
"David Moyes has proved that, he's got that and it's only a matter of time before things are sorted out and Manchester United are back to winning ways.
"I remember some of the years with Sir Alex, barren years and not very good years and he would keep calm and stay relaxed. He knew he was building something behind the scenes and David Moyes is doing exactly the same thing."