Manchester United manager David Moyes charged over Sunderland comments
Manchester United boss David Moyes has been charged by the FA over his post-match comments at Sunderland in midweek.
Last Updated: 10/01/14 11:15pm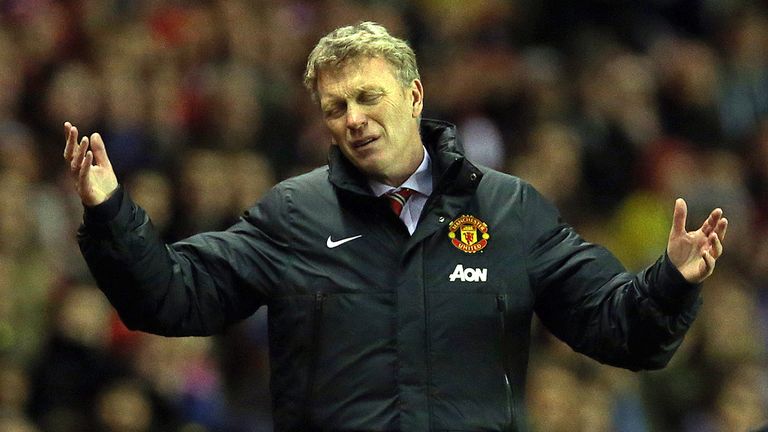 The Manchester United boss criticised the performance of referee Andre Marriner and his assistants in the wake of a 2-1 defeat in the first leg of the Capital One Cup semi-final.
Sunderland's first goal came from a set-piece and their winner from the penalty spot, and Moyes felt neither should have been awarded.
In the aftermath of the game he claimed United have started "laughing" at officials and said "we're having to play them as well as the opposition at the moment."
That outburst has caught the attention of the FA, who allege Moyes "called into question the integrity of the match officials, and/or implied that such match officials are motivated by bias; and/or brought the game into disrepute".
Moyes' Wearside complaints came six days after he blasted as "scandalous" Howard Webb's failure to award United a penalty late in their 2-1 defeat to Tottenham.
The Scot was also critical of Webb's decision to book Adnan Januzaj for diving - the third time the teenager has been yellow-carded for the offence this season.
Moyes has until 6pm on January 15 to respond to the FA charge and faces a fine if he is found guilty.
Liverpool manager Brendan Rodgers was fined £8,000 and warned about his future conduct earlier this week after admitting a breach of the same FA rule.
Standing up
Meanwhile, Moyes insists his United players are not hiding, as a dismal debut campaign for the Scot has lurched towards crisis since the turn of the year.
Successive defeats to Tottenham, Swansea and Sunderland - the first two at Old Trafford - have left the Red Devils on the brink of their worst losing sequence since 1961.
Against Swansea and Sunderland in particular, alarm bells started ringing amongst supporters at the meek manner of United's demise, totally out of keeping with the Sir Alex Ferguson era.
It has led to suggestions a group of title-winning players are taking shelter behind their manager and letting Moyes take all the flak, but the former Everton boss has dismissed the suggestion out of hand.
"I don't think any of the Manchester United players are," he said. "Every one of them is standing up and doing what they can.
"You can never ask anyone to do more than their best and the players here are doing that.
"There are a lot of well educated people out there talking about football, who know a lot about it. They are within their rights to give an opinion. I have no problem with that.
"When you are losing at Manchester United, that is correct. You are expected to win.
"But we were actually getting the same criticism when we were winning. That is where you question the people who are saying it now."
And Moyes believes he could do with a little bit of good fortune helping him as even that has been in short supply recently.
"Form can come and go but you need things to go for you," he said.
"We have had a couple of really poor decisions in recent games which could have altered things.
"But that isn't a great talking point for the media. They would rather hear that Manchester United have lost. It is much easier to say that than put the facts to it."