Premier League: England midfielder Adam Lallana hurt by Clattenburg criticism
England midfielder Adam Lallana was hurt by the widespread criticism aimed at him after the Mark Clattenburg complaint.
Last Updated: 10/01/14 5:26pm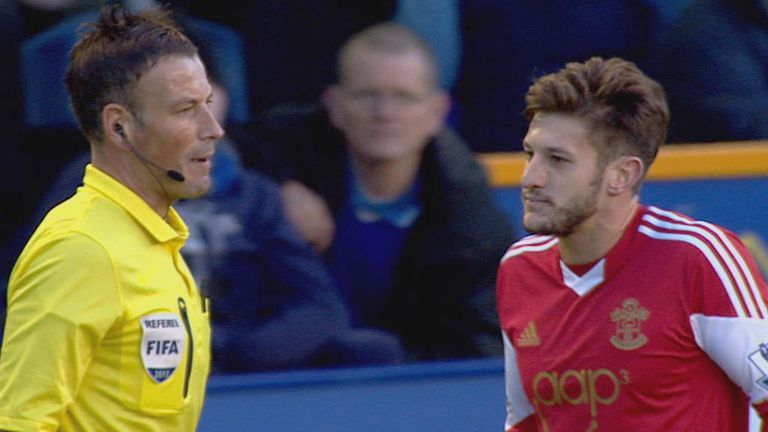 The club's complaint about Clattenburg's alleged remarks during the Premier League defeat by Everton on December 29 was thrown out by the Football Association and the referees' governing body Professional Game Match Officials Limited (PGMOL).
The official was accused of telling Lallana: "You are very different now, since you've played for England - you never used to be like this".
Despite the club rather than the player raising the matter, Lallana has been widely ridiculed, something that initially upset the attacking midfielder.
"I think for the first day he was a bit like 'why is everyone coming for me?'," said the playmaker. "He made a remark after the game, conversations happen and the end result was the end result.
"But anyone that knows Adam knows that first of all he is a good pro, a good lad, a good person. I think after the first day or two he realised that himself, that he hadn't done anything wrong, he shouldn't be feeling anything negative about himself and then he banged a goal in against Burnley. That kind of epitomises where he is mentally."
Davis captained the side at Goodison Park and hoped everyone could "move on" from the incident, allowing team-mate Lallana to continue his bid to make England's World Cup squad.
"As he gets older, he has got that bit of belief that what he was doing in the Championship he can step up and do at a higher level," Davis, in goal when Lallana made his Saints debut against Yeovil in August 2006, said.
"I think as well when he first had the Southampton armband, you could see it kind of held him back a little bit. But now the way he has matured, he doesn't find that a weight now. Again, that comes down to belief.
"The manager coming in at the time he did and working closely with him has helped.
"The way he has been treated from the very top of the club with his new contract has helped the way he has developed, with the England call-up probably that final turning point in his head.
"He has a real opportunity to really become a very good player at this level, so he is obviously great to have around the place."