Premier League: Paul Lambert has the backing of Aston Villa chief Paul Faulkner
Aston Villa chief executive Paul Faulkner insists Paul Lambert has the full backing of the club.
Last Updated: 15/01/14 12:46pm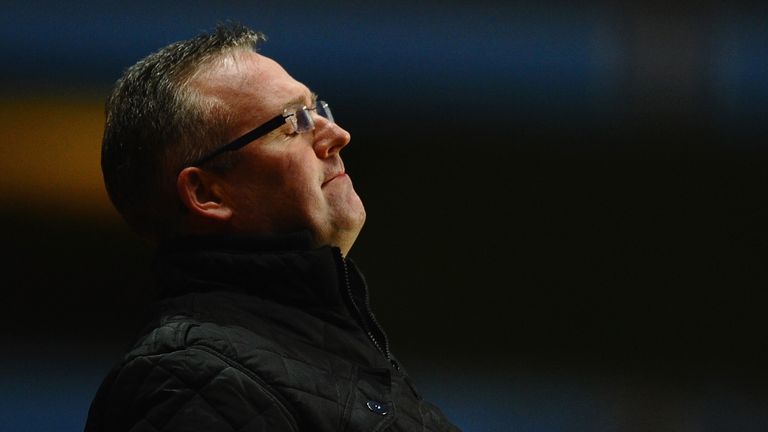 Faulkner has called on the fans to get behind Villa boss Lambert, who has been criticised at various points this season.
Speaking to Free Radio, the Villa chief executive says the club's fans need to continue their support of Lambert and the team.
"Just stick with the team, the support's been great from the fans, just keep that coming. The fans have been fantastic and we've got to give them more to cheer about. The manager and the players are desperate to do that, so just keep the support coming," said Faulkner.
Faulkner insists that club owner Randy Lerner, himself and Lambert have an excellent working relationship.
"Paul is a really good manager to work with," he said. "We have a view of where we want to try to develop and take the club forward and I think it's one that we all share. In any walk of life, if you're in a working relationship like that, it's a good place to be and you do feel like you can get stuff done.
"We know that football is a harsh, brutal business. Lots of criticism and stick will go flying all over. Everyone's got an opinion, everyone's an expert and they're entitled to that opinion and they're entitled to that.
"But being in the middle of it, you've got to stay very strong and together and support each other. That's something that we are very good at doing.
"That makes you stronger and if you can keep doing it, that allows you to actually grow and build.
"It's sort of like the overnight success story which takes two or three years to sort of put in place. If you don't keep going when there's a little bit of stick flying, then you'll never achieve anything ultimately."
Reaction
Faulkner insists that there will be knee-jerk reactions to any results at the club.
"If you get a bad result, you hate it. If you're involved in football you hate losing and it lives with you," he continued.
"I read Paul saying the same. He doesn't eat, doesn't sleep and I sort of share those feelings. If you're involved in football, you're going to lose games, just like you're going to win games - it's part and parcel.
"Twelve months ago, we were in a really bad run and we stuck together during that and I think we saw the benefits of that during the second half of the season.
"When you've been through things like that together, you also have a lot more faith and trust in each other."
Faulkner also confirmed that they would be looking at the January transfer window, but they would rather wait until the summer.
"I think the January transfer window, it's been said lots of times by lots of different people, it's an opportunity to try to improve the squad," he said.
"It's a tricky time to do that because it's mid season and just as we wouldn't look to sell our best players right now, the same goes for pretty much every club.
"This time of year, you're looking to bring in players who can make you better or fit a certain specific need that you might have. It's trying to see what can be done and what is available.
"If we all look and think that there's something we can get done, then great. When we plan for the season, you obviously do the majority of your planning over the summer, which is why we were busy and brought in seven players over the summer, so that's always going to be the bulk of your business."