Premier League: Gus Poyet wary of Southampton threat to Sunderland
Sunderland boss Gus Poyet admits he does not know what to expect from Southampton on Saturday after their chaotic week.
Last Updated: 18/01/14 11:52am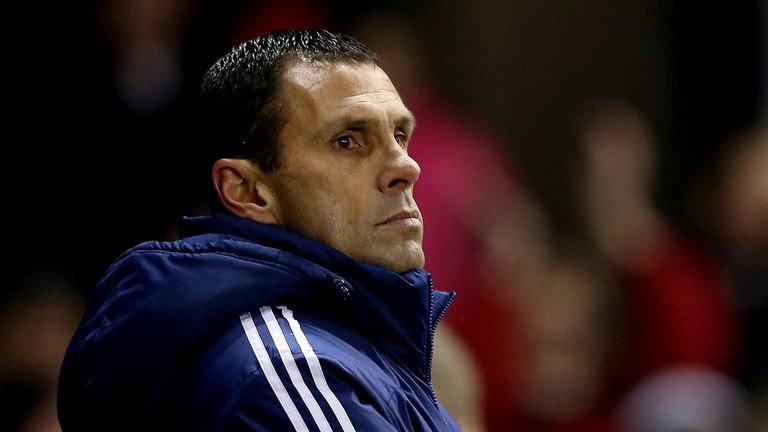 The Saints have not had the ideal preparation for the trip to Wearside after the resignation of executive chairman Nicola Cortese on Wednesday.
However, manager Mauricio Pochettino has confimed he is staying at St Mary's and Poyet will not allow his players to be fooled into thinking they will face a club in disarray.
"It can be either way, depending how they perform, it could go either way," said Poyet.
"When people say it doesn't affect the players, it does. But that doesn't mean it affects you badly, it can affect you the other way, so we will see what happens on Saturday.
"It's difficult, a strange, unique situation, what is happening at Southampton. It depends what the consequences are, you never know. It's unexpected."
Sunderland hauled themselves from the foot of the Premier League table with their 4-1 victory at Fulham last Saturday and are now just a point shy of moving out of the relegation zone
Poyet is delighted with the job his players have done since he took charge in October, but he knows there is still a long way to go as they look for a fourth successive win in all competitions.
He said: "The idea is to keep winning because we need more points. I was trying to think about how much of the job we have done so far - I would say maybe half.
"We were really far away from everybody, everybody was looking at the table and they were writing us off completely, and now we are there in the mix, so I would like to say that half of the job is done.
"But the other half is going to be as difficult as the first. We have proved that we are able to do it, so if we maintain that level and we do on Saturday what we have done until today, we are going to be in a great position to stay in the Premier League."