Manchester City boss Manuel Pellegrini is delighted to have selection dilemma
Manchester City boss Manuel Pellegrini is delighted to have a selection dilemma against Cardiff City this weekend.
Last Updated: 18/01/14 2:26pm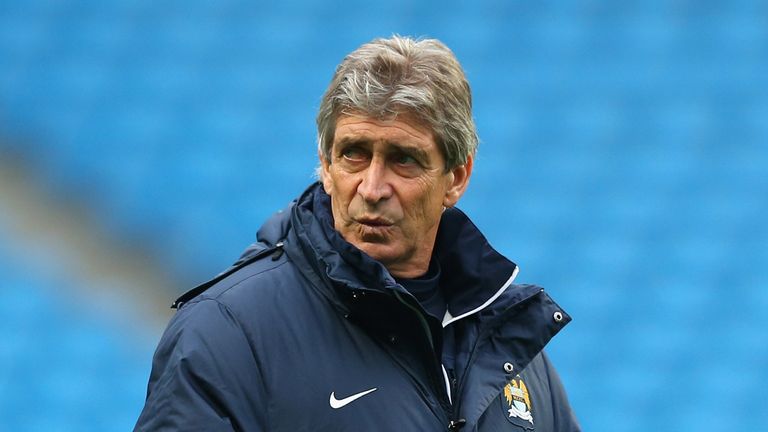 Edin Dzeko and Alvaro Negredo have hit a rich vein of form and with Sergio Aguero on the comeback trail, City are spoilt for choice up front.
With 99 goals in 33 matches this season, City will reach a century eight games quicker than any side in Premier League history if they score on Saturday.
Pellegrini said: "It's better to have all three available as all three are very important players - Dzeko and Negredo are in very good moments while Sergio is just coming back from injury, so it's good we have the three.
"Sergio is coming back from a long injury, he played 20 minutes against Blackburn - we'll have to decide if he starts.
"All of them must feel important to win something this year - it's impossible to achieve our targets with only 11 players.
"From the beginning, I said we will need all of them. We do it all together - if not, it's very difficult.
"We will try to do a good game for the fans - so far we are doing well but every game is different. Cardiff only lost to Arsenal late on in the game so we are not thinking it will be an easy game.
"More goals are better but we prefer to be a balanced team. I know nothing about any transfers, we are not concerned about this at the moment. We are just thinking about Cardiff at the moment.
"All of the players must know that winning tomorrow is the only important thing. It's not important for us to think about what happens in one or two months.
"I am convinced the title race will be very close; five or six teams will be fighting for the title with maybe just one or two points in it at the end."
Sky Sports brings you closer to the sport you love in 2014 with live sporting coverage from the Barclays Premier League, UEFA Champions League, Formula 1, Super League, The Masters, Ryder Cup and much more. Visit www.sky.com to find out more about how you can upgrade to Sky Sports.