Premier League: Michael Laudrup warns Swansea that next seven games are vital
Michael Laudrup believes Swansea's next seven games are "crucial" to avoiding being involved in a relegation battle.
Last Updated: 19/01/14 1:17pm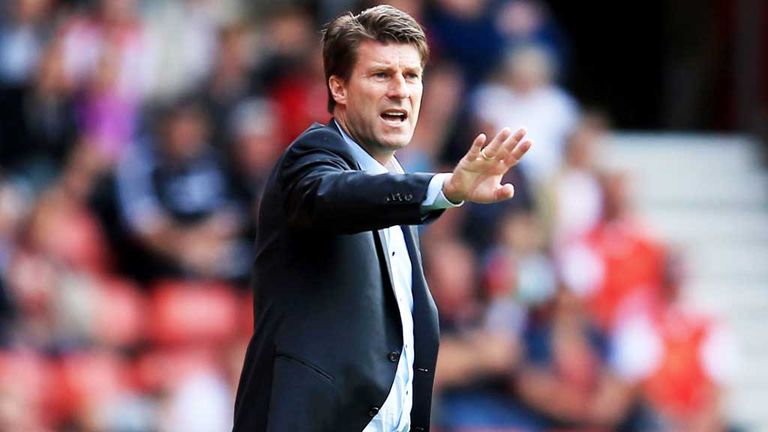 Laudrup's side are currently just three points clear of the Premier League drop zone ahead of Sunday's visit of Tottenham to the Liberty Stadium.
Swansea face a number of other struggling teams over the next few weeks, and Laudrup said: "It is so tight from our point of view and it depends on what we do in the next seven league games.
"In the next month and a half, from the game on Sunday until the Crystal Palace game (in March), we have four games at home and lots of games against opponents who are also in the bottom half of the table.
"This next month and a half is crucial to the rest of the season. If we come out of it well, things will be looking very good, if not we will have to admit we will be in a relegation battle for the rest of the season."
Laudrup's first priority is to find a way to end a run of seven league matches without a win.
He said: "What is important for Swansea, a club that has been progressing so long, is that when you play at the highest level, whether you are going for the title, Champions League or relegation, there will be moments where things are difficult and you have to suffer.
"That is life at the top. You learn more in difficult moments than good, because it is always easy to be friends and pat each other on the back when you win.
"But to get back to winning after losing is a fantastic feeling.
"If Swansea want to stay in the Premier League for the next 20 years there will be many years where you suffer, you have to be prepared for that."
Swansea's recent form has not been helped by a string of injuries, and Laudrup has also been unable to recall Ki Sung-yueng from his loan at Sunderland.
Swans chairman Huw Jenkins had said earlier this week that the option to take the South Korea international back to the Liberty Stadium extended until the end of the transfer window, but he has subsequently found that is not the case.
Laudrup said: "When I was first asked about bringing Ki back, I said I would not because he was doing well at Sunderland and if he came back and didn't play regularly, it would be very difficult for him mentally.
"But things changed dramatically when we lost Jonathan de Guzman and Jose Canas in the space of a few days.
"The injury to Canas will probably keep him out for about four weeks, and suddenly we only had two midfield players.
"Then I looked into the possibility of bringing Ki back, but the loan agreement said it should have been done by the end of December, so it's not a possibility.
"The only way we can change that is if Ki and both clubs all agree to end the loan, but of course Sunderland are not going to do that."