Jose Mourinho says Chelsea's Eden Hazard can rival Lionel Messi and Cristiano Ronaldo
Jose Mourinho believes Chelsea attacker Eden Hazard has the potential to become one of the best players in the world.
Last Updated: 29/01/14 11:32am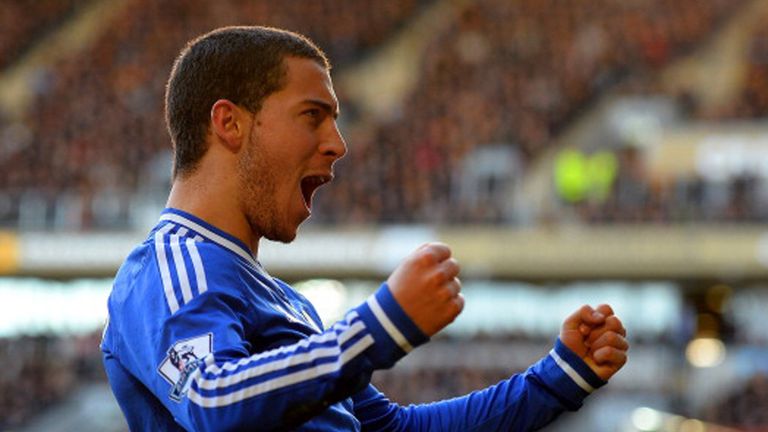 Hazard has impressed since moving to Stamford Bridge from Lille in 2012 and has arguably been Chelsea's best player this season following Mourinho's return as manager.
Lionel Messi and Cristiano Ronaldo have dominated the Ballon d'Or awards in recent years, but Mourinho feels Hazard is capable of challenging the duo for the top individual prize.
"Yes, he can reach that level," said Mourinho. "Because his evolution is great. I think, because of the positions Cristiano and Messi played, they are also top goalscorers.
"It's not just the quality of the players, but the number of goals they score that makes them even more special. Eden is a winger, a pure winger. Okay, we are giving him freedom to go to other areas, but he's an attacking winger.
"I don't think it's possible for Eden to be top scorer in the league. That normally affects people's judgement. But if he can be a match-winner, a player with high performances during a season... without injuries, Messi and Ronaldo start and finish strong, players with big stability in their performances.
"But if he wants the Ballon d'Or, he must build the entourage politically for that. Without the entourage and the politics, he doesn't get the Ballon d'Or. It's a different story.
"If he wants to be a great, great player and arrive where Cristiano and Messi arrives, he has the space to go - he's 23, and Cristiano is 28 or 29, Messi 26 or 27... still young players, but four or five years older than Eden.
"So he has the space to go, space for evolution. I think there's a great ambition for him."
Speaking earlier this week, Belgium international Hazard confirmed that his target is to reach the same level as Messi and Ronaldo.
"Of course I want to be the best in the world," he told Het Laatste Nieuws. "Previously I was more worried about the game itself: football was just a game for me, I wanted to amuse myself and didn't bother what the people thought about me.
"But since I've been here at Chelsea, I've become more aware of my qualities, I guess. Before, I knew I was a good player, but not one of the better players in the world.
"Now I realise that I can compete with Messi and Ronaldo in the near future, if I put in some more effort. I don't know if I will ever reach their level. It'll be hard, they have incredible stats, but I accept the challenge."