Bradley Johnson wins red card appeal but Loic Remy will serve three-match ban
Bradley Johnson has won his appeal against his red card against Newcastle, but Loic Remy's claim has been dismissed.
Last Updated: 03/02/14 3:37pm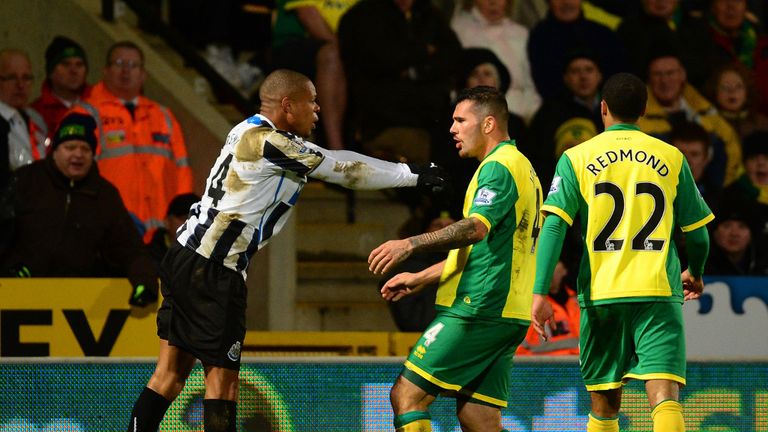 The pair were both shown straight red cards in the 82nd minute of the Carrow Road stalemate for an off-the-ball clash.
Referee Chris Foy sent the pair off after they shoved each other and went head-to-head, and both clubs appealed the decision.
Johnson's appeal was upheld, meaning he is free to play against Cardiff City on Saturday, but Remy's claim was dismissed and he must serve a three-match ban that begins with Saturday's Tyne-Wear derby against Sunderland.
An FA statement read: "An Independent Regulatory Commission heard two claims of wrongful dismissal today both in relation to the Norwich City versus Newcastle United game on Tuesday.
"The claim involving Norwich's Bradley Johnson was upheld meaning his three-match suspension is withdrawn.
"The claim involving Newcastle's Loic Remy was dismissed therefore his three-match suspension remains with immediate effect.
"Both players had been dismissed for violent conduct."
After Tuesday's game, Newcastle boss Alan Pardew accused Johnson of making the incident look more serious.
He said: "There is probably just enough for the referee to send them off, but Johnson's reaction to the heads meeting, in terms that he got a head-butt when he did not, was the catalyst for them both to get sent off.
"It was his own fault, if he had not have done that then maybe the referee would have taken a more lenient view, but he made such a drama out of it, he should be ashamed of himself really."