PFA deputy chief executive Bobby Barnes calls for caution online
PFA deputy chief executive Bobby Barnes believes players and fans alike must be wary when using social media.
Last Updated: 05/02/14 3:32pm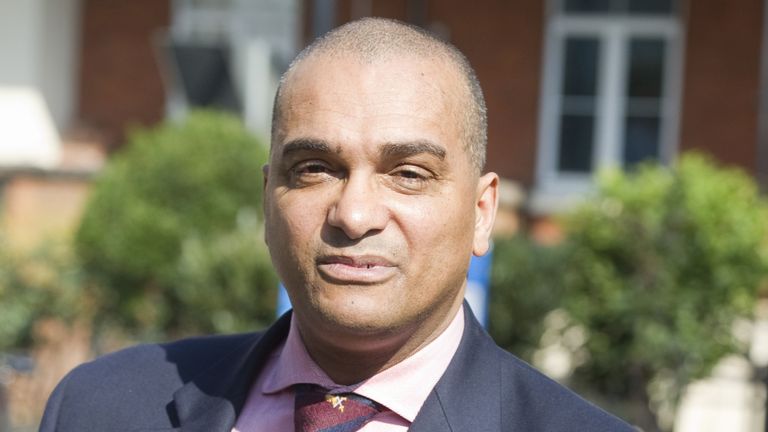 Sky Sports News reporter Amy Lewis recently conducted an investigation that revealed over 40 cases of social media abuse directed at professional footballers in England and Scotland in the last year.
Barnes highlighted the severity of abuse of a racist, anti-Semitic or violent nature and also urged those in the spotlight to think twice before publishing thoughts that may attract the wrong kind of attention.
Barnes told Sky Sports News: "Obviously it's a very significant issue now because as technology has evolved, players have become more accessible from a wider range of medium.
"In days gone by, once you got to the safety of your own home, that was it - but nowadays you're very much exposed. When you're in football or any sport, not everybody is going to be positive about your utterances online.
"We make it very clear to our membership that they need to be wary of how they engage in social media. It's ironic because one of the things they've been criticised for in the past is not connecting with the public, and when they do it's very sad that they get this sort of abuse.
"The one thing the PFA has always sought to do is make sure players are comfortable to report these incidents and the necessary authorities are informed. I know there is a frustration that at times there isn't necessarily that cooperation from the social media networks.
"We advise that our members be guarded in what they say when on Twitter or Facebook. We've had younger players understandably excited about making a debut and perhaps giving away about line-ups. There are all sorts of nuances to these things.
"Banter is one thing but when you've got racist and other abuse, you've got to ask whether these people would be brave enough if they weren't sat at a computer. In the vast majority of cases they wouldn't and I think it's right that they be caught and punished."
Wales international Jason Brown was allegedly racially abused and threatened on Twitter when he was playing against Scotland in October 2012.
He claims it has not been taken seriously, saying: "The police have been extremely disappointing. They've been a bit dismissive of the matter like it doesn't matter. Obviously they're there to gauge the law but they haven't done so. Personally, I have thought I would have been better dealing with it myself and taking the law into my own hands."
The age of social media means the barrier between fans and players has been broken down, but for all the positives there are risks. Aside from the 44 cases reported to police in the last year, clubs told us hundreds more go unreported because players don't speak out. They say the abuse is often racist, anti-Semitic and threatening - sent by fans as young as 13.
Troy Townsend from the anti-racism campaign group Kick It Out says: "We need to get into the minds of the individuals doing it, whether they're doing it because they want to get a re-tweet or they want to get fame amongst their friends and say I abused so and so. Until we can do that and get into their culture then we're never going to stop this."
There have been prosecutions involving fans who have abused footballers. A man who sent racist tweets to former Rangers players Kyle Bartley and Maurice Edu has been jailed for six months. A student was jailed for 56 days for racially offensive comments about Fabrice Muamba - sent hours after the Bolton player suffered a cardiac arrest during a match.
However, police investigating the crimes say their powers are limited.
Detective Inspector Duncan Sales from Hertfordshire Constabulary said: "Often we can identify who has actually sent the message but it is then more difficult to identify an address for them because a lot of social media sites are based outside of the UK and have no obligation to give us the information to track them down".
The prosecutions that are successful are often brought under the malicious communications act and harassment act. The Crown Prosecution Service (CPS) say it's impossible to know how many are punished because of the way the data is recorded but deny serious crimes go unpunished because of the vast number of cases.
Alison Saunders, Director of Public Prosecutions at the CPS, said: "I think if we have the evidence and it's in the public interest we will take that into account and we will make sure we prosecute.
"Cases that have a racial element are really important as well because that's one of the factors we'll take into account when deciding whether to prosecute."
Former Liverpool player Stan Collymore claims Twitter isn't doing enough to combat illegal messages after he was allegedly racially abused and sent death threats.
The site said it took action against illegal or rule-breaking content, which includes a new "Report Tweet" button where users can report abuse to their team who they say work 24 hours a day to respond to reports. They add: "We also have a clear process for working with the police and are in ongoing communication with relevant UK police forces to make sure they are aware of our policies."
The FA and Premier League are now so concerned about the prominence of social media that they've issued guidelines to clubs on what players should and shouldn't comment on and the FA has released an educational video to clubs.
However, none of this would have prevented Jason Brown's case. Police Scotland told us they've charged a man and sent the report to the prosecutor who told Sky Sports News the case "remains under consideration."