Premier League: Manager Paul Lambert starting talks over Aston Villa extension
Aston Villa boss Paul Lambert revealed he is in talks with chairman Randy Lerner over extending his stay at Villa Park.
Last Updated: 07/02/14 2:41pm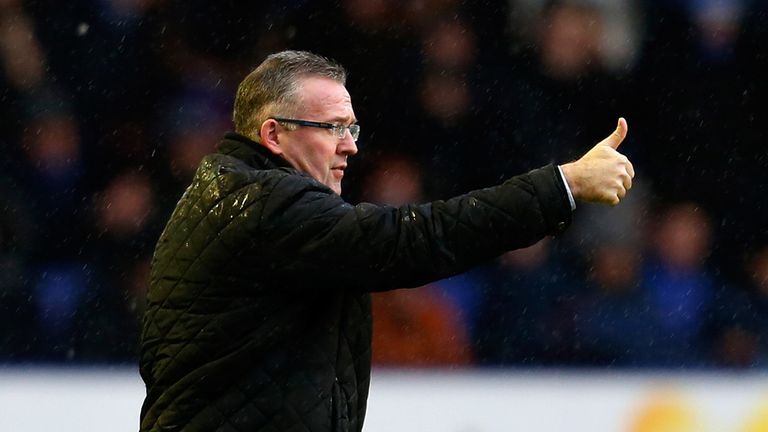 With the claret and blue currently 10th in the Premier League standings, the 44-year-old has opened preliminary discussions over a new deal.
Lambert moved to Birmingham from Norwich in the summer of 2012 and soon endeared himself to the Villa Park faithful with the acquisition of striker Christian Benteke and reaching the Capital One Cup semi-final in his first season.
Villa made a fine start to the current season too, beating Arsenal 3-1 at the Emirates Stadium and with the club well poised in mid-table, Lambert is keen to remain on-board.
The Scot is said to have a strong working relationship with Lerner and chief executive Paul Faulkner and shares their vision for the club.
"If you have that vision, you need people seeing it and backing it and Randy has been fantastic with that," he told the Express and Star.
"He knows what's happened, and he knows the way we want to go, and as I said, he's backed it and been excellent.
"They see the vision and what's happened, and the work's going on behind the scenes, to have that vision of what you want to do."
Vision
But Lambert, who joined Villa from Norwich in 2012, claims there is no rush to secure his future as he focusses on the upcoming Premier League clash with West Ham.
Asked if there was any updates on the talks Lambert said: "Nothing really. The most important thing is the game on Saturday.
"I speak to Randy a lot and things like that will take care of itself. There's nothing major in it.
"I've another year after this anyway. I never look too far ahead. The discussions between me and the chairman will be the same as they've always been.
"They see the vision and what's happened, and the work's going on behind the scenes, to have that vision of what you want to do."
Lerner has been criticised heavily during his time at the club for a lack of communication with supporters, but Lambert believes deep down they acknowledge the value of his contribution.
Respect
Lambert said: "I think the fans really appreciate what they have - the stadium, everything.
"Anybody who decides to have a shot at him or criticises him is way off the mark. He is a private guy, which he is totally entitled to be, and you have to respect that.
"There's no great issue for the fans if Randy is here or not here, and with what he has done.
"If you look at all the facts, the money he has put in and what he has done for the local community, let alone anything else, he is entitled to his way of doing things and you have to respect that."
Lambert insists his relationship with Lerner is flourishing and believes he would be in the know if the former owner of NFL side, the Cleveland Browns was also preparing to sell Villa.
"It's well documented I'm always in contact with Randy and he's never spoken about anything like that whatsoever, we speak about football," he said.
"I don't really buy into too much of that. I don't get involved in it, and I'm pretty sure I'd be one of the first to know. But he's every right to decide what he wants to do. He is the main person at this club.
"But as I've said before, nobody should ever criticise Randy for what he has done at this club.
"Right now we get on well and we are planning to drive the club forward. I know the remit here."