Olivier Giroud confident Arsenal have enough mental strength
Striker Olivier Giroud is confident Arsenal have the mental strength to challenge for the Premier League title.
Last Updated: 07/02/14 2:52pm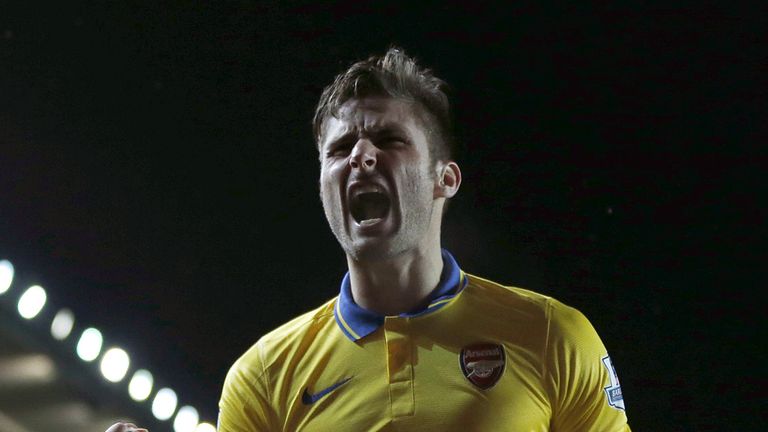 The Gunners play Liverpool at Anfield on Saturday lunchtime and then host Manchester United on Wednesday night, before Brendan Rodgers' side return to the Emirates Stadium for an FA Cup fifth-round tie on February 16.
That is followed by a Champions League visit to north London by holders Bayern Munich.
Despite many pundits confidently predicting Arsene Wenger's squad would decline at some point, Arsenal remain top of the table, two points ahead of Manchester City who were beaten 1-0 at home by Chelsea on Monday night.
Giroud is in no doubt his men have what it takes to last the distance through to May.
"We have to show people that we want to answer (our critics) on the pitch and nothing more," said Giroud.
"That is the most important (thing) for us, the reality of the pitch. After that, if people don't think we can finish first it is not my problem, but I know we have a good chance to win the league."
England midfielder Jack Wilshere should be available at Anfield following an ankle problem.
Gunners boss Wenger firmly believes his squad possess the character needed to pull through such a demanding schedule which could well shape the final outcome of their season.
"It is a good moment for us to win a big game because we have a tough predicted month," Wenger said.
"At the moment I think we are on a good run and the best way is to continue that to keep the confidence level high and of course to stay in a strong position in the Premier League."
Wenger continued: "Mentally we are prepared for that (run) and we have shown a great response throughout the season when we had difficulties, and physically we are prepared as well.
"We want to convince people that we have the quality and we want to be up there in every single game, and win every single game we play."