Premier League: West Ham striker Andy Carroll's three-match ban will stand
Andy Carroll's three match-ban will stand following an independent arbitration tribunal.
Last Updated: 08/02/14 4:07pm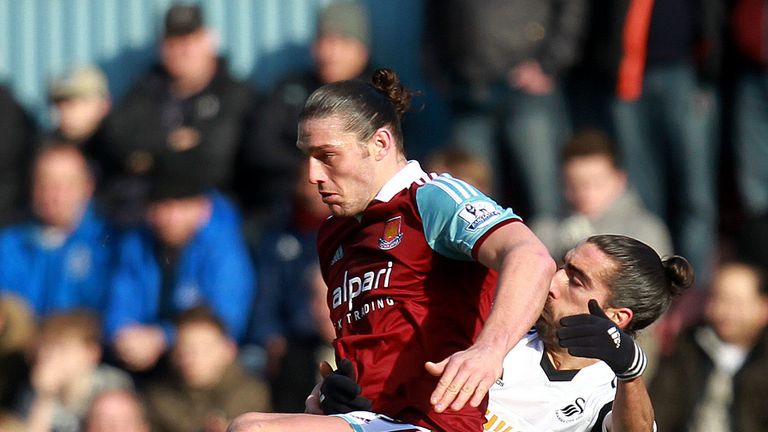 An independent arbitral tribunal on Friday rejected West Ham's case, and Carroll's ban takes immediate effect.
West Ham are unhappy that the England striker's ban - a consequence of being sent off against Swansea last week after an altercation with defender Chico Flores - was not overturned by the FA, and took the case to tribunal in the pursuit of what manager Sam Allardyce claimed was "justice".
However, the independent panel, at which the FA was also represented, turned down West Ham's submissions, and so Carroll will now serve his ban.
The striker will miss West Ham's away game with Aston Villa on Saturday, as well as the home fixtures with Norwich and Southampton.
West Ham confirmed in a statement their decision to accept the punishment:
"Whilst West Ham United are obviously disappointed at the decision, as we have made clear throughout, we respect the rules of football and shall abide by them.
"Andy Carroll will now serve a three-match suspension."
Allardyce expressed his feelings earlier in the scheduled pre-match media conference on Friday morning before the final decision of the tribunal was known.
"I think the whole procedure in terms of how we put our case together and the vast swell of people felt it was unjust and for me the panel has not seen it how they should have seen it and as the evidence we gave," he said.
"In this case they were looking at it from the view of one thing only: was it an obvious mistake? So we based our procedure on this, and I'm 100 per cent certain it was an obvious mistake - (referee) Howard Webb should have given a free-kick for Andy against Flores, at that stage the whistle blows and there's no incident, so that's an obvious mistake, because it is an obvious free-kick.
"For me the conclusion could only have been that he felt that even though he hadn't seen it 100 per cent, he was reluctant not to give a red card on the basis that if Andy had caught him full in the face or elbowed him or used violent conduct, which he didn't, it was at very best reckless, then he would've been in trouble with his group of referees and his bosses for not giving it."
Allardyce was left less than impressed by the reaction of Spanish defender Flores.
He said: "He has allowed people to say to players 'you can get away with simulation to get someone sent off or get a decision in your favour', that is clear for all to see on what happened.
"Howard thought that Andy has smashed him straight in the face by his reaction and then when you see it after there is little or no contact and it is nowhere near his face, so it is a shame.
"The other scenario that he must feel a lot more guilty of is he has just got his manager sacked."
Allardyce presented some statistics to the media ahead of the conference, highlighting an increase in the number of red cards shown this season.
He added: "The sad thing is if you're giving out red cards you have to be 100 per cent certain. We have had two and they couldn't have been 100 per cent certain."