Premier League: Beating Everton was 'cup final' win for Tottenham, says Tim Sherwood
Tim Sherwood believes Tottenham's 1-0 win over Everton was "a cup final" for his side in the race to reach the top four.
Last Updated: 10/02/14 2:58pm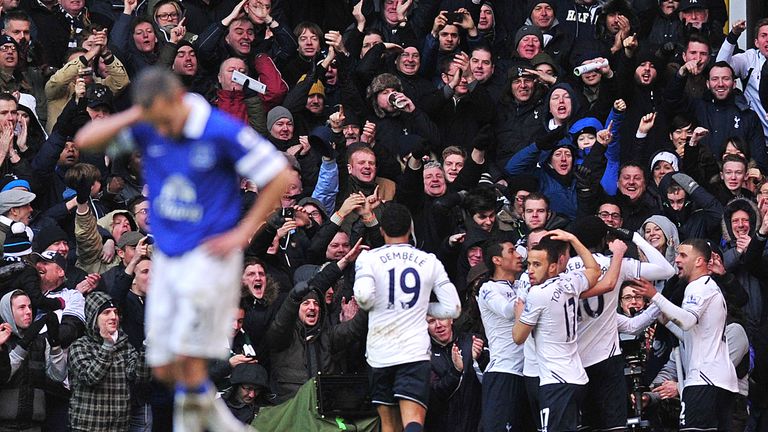 Spurs were certainly second best for the first 45 minutes of Sunday's Premier League clash at White Hart Lane, but responded to the words of their manager Sherwood at the break and were much improved.
The Spurs boss, claiming his sixth victory in nine league games since replacing Andre Villas-Boas, admitted it had been a tough opening period for his players but praised their resilience and the manner in which they improved.
"Everton never had a shot in the second half," he told Sky Sports. "Our game plan was to put pressure on high up the field - it didn't change from the first half, we just didn't apply it well enough.
"They're good players. If you give them space to play, they're going to pass it around you. They created a few chances, and Hugo (Lloris) had to be at his best to keep us in the game in the first half. But in the second, I think we adjusted to it and we were the ones in the ascendancy.
"They still had possession, but they never opened us up once. The application was certainly different from us. Obviously you want to have chances and 20 shots on goal, but if your ratio is one shot on target and one goal, I'll take that."
The only goal came from Emmanuel Adebayor in the 65th minute, the Togo striker netting for the sixth time in 10 league outings after Kyle Walker's quickly-taken free-kick.
"Yeah, Kyle saw it early and put it down, the ball was dead still and Ade pulled away," added Sherwood. "Once he holds them off, it's going to end up in the back of the net invariably, at the moment for him."
Spurs moved above Everton into fifth place, and their manager said: "We're delighted with the result. Yeah, the performance can be better but it's about character - grinding it out when you're not playing well - and a lot of the games are going to be like that. It was chalk and cheese between the first and second halves, but in the end we've come out on top.
"I asked them to put some pressure on higher up the field. We were standing there admiring them - let's get up and at them. I didn't want too many gaps between the midfield, but we were too deep with them. We had to push them on, and work as units, and still have our threats on the counter.
"It was huge, it was a cup final. I don't want to rubbish our performance - but sometimes people win cups when they haven't played very well."
When asked about his goal afterwards, Adebayor said: "The ball was great, and the control was not that bad either!
"But it's not about the goal, it's about winning the game."