Premier League: Violent conduct charge for Cardiff veteran Craig Bellamy
Cardiff striker Craig Bellamy has been charged with violent conduct by the Football Association.
Last Updated: 11/02/14 10:15am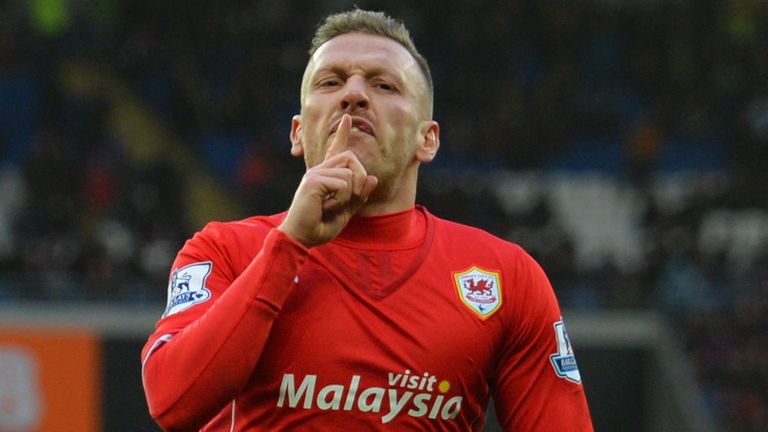 Bellamy appeared to catch De Guzman with his arm during the second half but referee Andre Marriner took no action at the time.
Marriner's match report confirmed that the incident had not been seen by himself or his fellow officials, and an FA statement read: "Craig Bellamy has been charged for violent conduct following an incident which was not seen by the match officials but caught on video."
Should Bellamy accept the charge he will face a three-match ban and miss Tuesday's meeting with Aston Villa, the visit of Wigan in the FA Cup this weekend and a further league fixture against Hull City.
Speaking prior to confirmation of the FA charge, Cardiff manager Ole Gunnar Solskjaer felt there was no need for any action to be taken.
He said: "For me, it was absolutely nothing. If that was me going down like that, my dad would have had something to say.
"But then again you can look at Angel Rangel when he kicks Wilfried Zaha in the first half. Nothing is mentioned about that. But that's just football.
"The referee saw it, they just ran into each other. I have spoken to Craig, we speak about loads of things and it is just one of those things when you run into each other. No problem."
Swansea head coach Gary Monk was keen to stress that there had be no pressure from his side for disciplinary action to be taken.
"It isn't our problem. I didn't notice it at the time," he said. "I just saw that Jonathan and Kim (Bo-kyung) were down and Ashley Williams had kicked the ball out of play.
"Jonathan isn't complaining about anything. If anyone else wants to take it any further then that is up to them.
"I don't think Jonathan made too much of it. He took a blow to the back of the head. I think it's off the mark to say he made a meal out of it. He's happy and he didn't complain to me about anything. We'll just get on with our job and let Cardiff worry about it."
Bellamy has until 6pm on Tuesday to respond to the charge.