Jose Mourinho answers Manuel Pellegrini's questions on January spending
Jose Mourinho has hit back at Manuel Pellegrini after the Manchester City boss questioned Chelsea's January spending.
Last Updated: 11/02/14 6:21am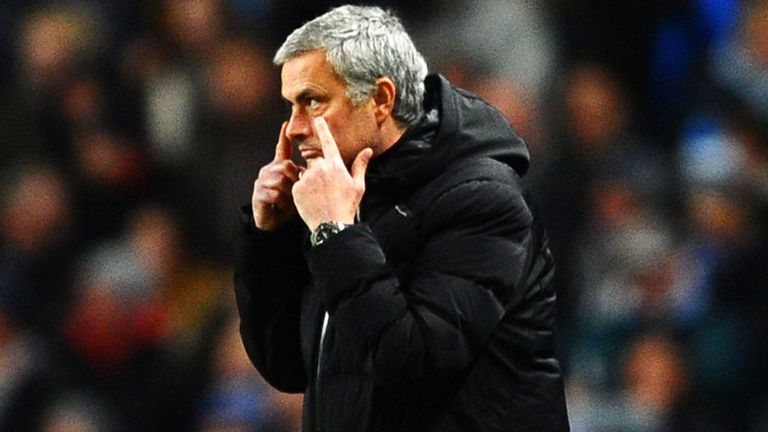 The Chelsea manager accused Pellegrini of getting his sums wrong when he suggested Mourinho may have fallen foul of the financial fair play regulations during the transfer window.
Pellegrini was responding to allegations from his Chelsea counterpart that City had benefitted from a number of dubious refereeing decisions throughout the season.
Mourinho has again hit back after a weekend in which his side moved top of the Premier League with a 3-0 win over Newcastle while City were being held to a goalless draw at lowly Norwich.
"What I would like to say that Pellegrini was talking about the money we've spent," said Mourinho.
"I think he's a fantastic coach, and I respect that a lot, and on top of that, outside his football career, he's an engineer by academic formation.
"I don't think an engineer needs a calculator to do [Juan] Mata £37million and [Kevin] De Bruyne £18million, so that's £55million.
"[Nemanja] Matic is £21million and [Mohamed] Salah is £11million. That's £32million, so 55 minus 32 is 23. So Chelsea, in this transfer window, generated £23million.
"It's easy to understand that this is working with financial fair play, fair financial fair play.
"There are no arguments against that. This is what we're doing. Others aren't doing the same. We are building a team for the next decade, if possible. They have a team to win now because they don't have a team for 10 years.
"They have a team for now, for the next three or four. So experience, potential, power, not worried about Financial Fair Play because, in the summer, they just spend... We don't need a calculator for this. It's easy. Plus 23.
"He has a fantastic team, fantastic players, is a good manager. Has lots of experience, so it's not a problem for him. 13 matches are 39 points, and that's an eternity in a league.
"He's been speaking about winning four competitions, so there's no reason to change the speech.
"But the only thing that is funny that he keeps saying he never responds to Mourinho, he never comments about Mourinho. He said that in Spain, too. So, he's changed."
Mourinho admitted the Fair Play rules had stopped him, for now at least, from pursuing Edinson Cavani and Radamel Falcao.
Asked to confirm this was the case, he said: "Correct. Because of transfer fees and salaries. Players are not just about transfer fees, but big wages. Of course there's a certain profile of player we don't go near."
Chelsea travel to struggling West Brom on Tuesday night, and Mourinho is wary that teams lower down the league can still have a big influence on the destiny of the title.
"Maybe the teams not in the top four will be very influential in the league," he said.
"Normally, people are pushed to say Chelsea against Arsenal, or Arsenal against City, or Liverpool against City. These are the matches that decide things. But maybe they aren't.
"In other leagues, it is like that. Madrid v Barcelona decides the title. Benfica v Porto decides the title. It's not the same situation here. The title is decided match after match.
"Every game is important. If we don't win tomorrow, it's not just about the title contenders to jump to the leadership again.
"It's also about Tottenham to win, Everton to win, and closing also the gap. At this moment, every point is important."