Ossie Ardiles expects Erik Lamela to overcome his troubled start at Tottenham
Ossie Ardiles has backed his Argentina compatriot Erik Lamela to come through his difficult start to life at Tottenham.
By Ben Reynolds
Last Updated: 11/02/14 3:13pm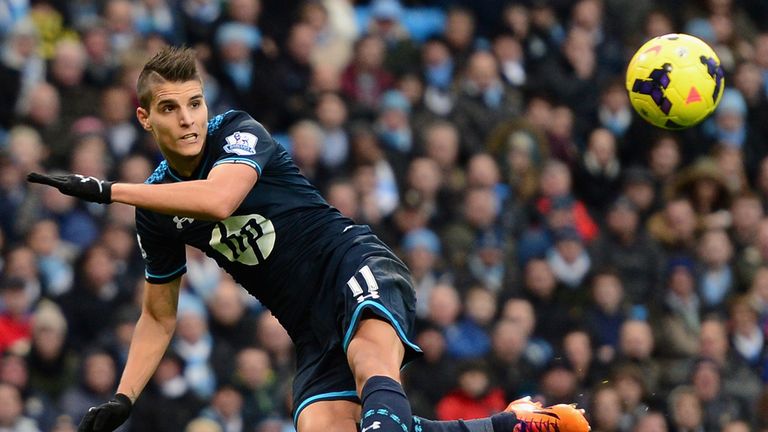 Lamela was the most expensive of Tottenham's seven summer signings last year, but has failed to establish himself in the first team, with his last appearance as a late substitute in the 3-0 win over Stoke at the end of December having played mostly in the Europa League under former boss Andre Villas-Boas.
The 21-year-old has been out with injury in recent weeks, but Ardiles, who formed a brilliant partnership with international team-mate Ricky Villa at White Hart Lane between 1978 and 1983, expects Lamela to shine next season.
"I have a lot of confidence in him," he told skysports.com. "His background is as a top, top player. In Argentina he was called the new Messi when he was with River Plate; in Roma he was called the new Totti, so his background is very good.
"But the pace in English football is much more difficult. It's much quicker and it's difficult to adapt immediately, so he did not start well and he's not really played. He's injured too, which has not helped.
"But he is a very young player. I'm pretty sure he has adapted to the English way of living, that's the easy part. The most difficult part is playing in a new team and something just needs to click and I'm sure if something clicks, he will be a very, very good asset for the club."
Ardiles was at White Hart Lane on Sunday to watch Spurs claim a hard-fought 1-0 win over Everton to boost their chances of a top-four finish, although he says Liverpool remain the favourites and does not believe Tim Sherwood needs Champions League football to keep his job.
"No not at all," he added. "In fact, realistically it's going to be very difficult to finish top four because the top three are away and the gap is big. Liverpool are playing tremendously well. I would say it would be an incredible achievement if Tim Sherwood gets his team to fourth. They are not the favourite to finish fourth this year."
Spurs still have silverware in their sights this season, with a Europa League last-32 clash with Dnipro to come later this month. Ardiles, who won the UEFA Cup in 1984 with Spurs, wants Sherwood to give the competition his full attention.
"It's great to win any trophy," he said. "We had to beat big teams like Bayern Munich and Ajax so it was very tough. Right now the names are not so well known, but as you progress the names will get tougher and tougher. I'm sure Tim would like to win and that would be a great achievement as well."