Premier League: Everton manager Roberto Martinez relaxed over Gareth Barry's future
Everton manager Roberto Martinez has saluted the efforts of Gareth Barry since his arrival on loan.
Last Updated: 11/02/14 3:26pm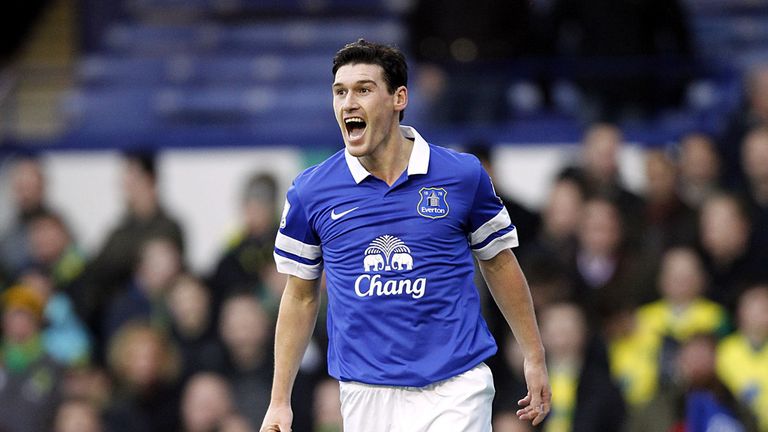 Martinez is confident there is no need to bring forward planned talks on Barry's future ahead of a summer when he will become a free agent.
"Speculation with other clubs doesn't change anything. I trust him implicitly," said Martinez.
"He has incredible human values. He's a person who needs to make footballing decisions. He's enjoyed an incredible career and is in a position that he can choose where his football happiness is going to be.
"From the beginning Gareth was a massive target of ours; he was available in the summer for other clubs and he decided to come to Everton.
"We did everything to bring him to the club and the relationship was to make sure he could go back to his very best, enjoy his football and have a big role at Everton.
"We were very clear with what we wanted from Gareth - to put him in an environment where he could be important, we could use his experience and he could enjoy his football. That was always the case for this season.
"Our agreement was in the summer we would sit down and it would be a question of what is best for Gareth.
"At the end of the season we will sit down and see if we've reached every single target we had and I'm sure Gareth is only focused on the games ahead and winning as many as we can for Everton.
"Nothing else matters. When you get interest from other parties and clubs looking at our players it is a good sign because the players are doing well and that is compliment I take with happiness."
He believes Barry has regained the form which should put him back in England contention; the last of his 53 caps came under Fabio Capello in a friendly game against Norway in May 2012
"You saw the way he performed at the weekend at Tottenham," Martinez said.
"It's a joy to have him at the club and his only focus now is to play as well as he can in every single game and I'm sure that the England squad could benefit from that level of performance.
"I enjoy working with him. He works exactly how we set out to do in the summer and I still think he's the best English player in that position.
"I'm just glad he's been able to show that at Everton, which could have a massive effect on him internationally."
Defeat at White Hart Lane was only Everton's fourth in the league and on the three other occasions they have bounced back with a victory. Martinez expects a similar response against Crystal Palace on Wednesday.
"There is a real unity in the dressing room which is wrapped up with incredible character and great tenacity," he said.
"There is a difference between performing badly and needing another game to perform well - this is not the case as we performed really well at the weekend and we didn't get what we deserved.
"It is another test for us to react. The character and the personality of this dressing room has never been in doubt, it is one of the biggest strengths we have."