Tim Sherwood critical of Frank De Boer after admission he wants to manage Spurs
Tim Sherwood has criticised Ajax boss Frank De Boer for his admission that he would like to manage Tottenham.
Last Updated: 12/02/14 9:41am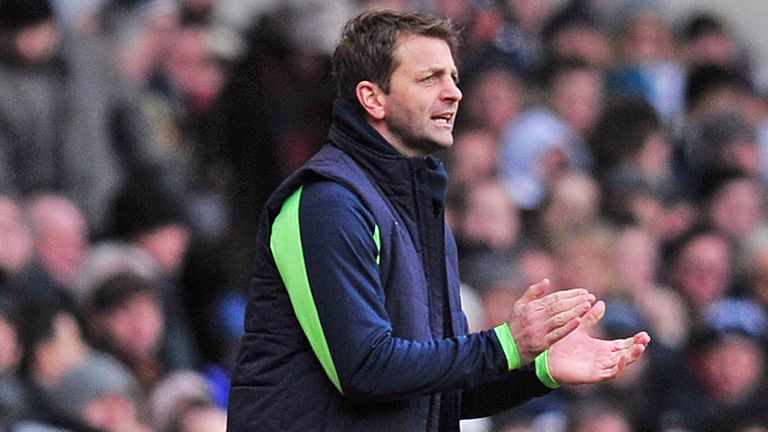 Sherwood, whose side are just three points off the top four following the 1-0 win over Everton on Sunday, understands why anyone would want to manage at White Hart Lane, but believes De Boer was wrong for publicly stating as much.
"It's natural I suppose, it's a big job, but I don't think I would ever tout myself about for a job when someone was already in the hot seat," he said.
"But if they want to do that, that's up to them. I don't know Frank. I'm not sure. I'm relaxed about it. But it wouldn't be something I would be doing.
"They just want to put themselves in the frame. Obviously they are not happy with the jobs they are doing if they are touting themselves for the Tottenham job."
Sherwood signed an 18-month contract when he replaced Andre Villas-Boas in December, but accepts that even finishing fourth may not be enough to see him keep his job beyond this summer.
"I am just going to do what I can," he added.
"I can assure everyone I will give 100 per cent to do my best for this football club. If that's not good enough, someone else comes in and gets the opportunity.
"I don't even know if top four gets me the job. You will have to ask the chairman but he doesn't give much away. You certainly wouldn't want to play poker against him.
"You need to just do as well as you can and hopefully someone thinks you are doing a good job. I don't think I could do a job if I wasn't enjoying it, even this one. If I wasn't enjoying it, I'd be gone. Listen, my life would be a lot easier if I wasn't manager of Tottenham, let me tell you that."