Rufus Brevett doubts whether Felix Magath can save Fulham from relegation
Rufus Brevett believes Fulham's players will be shocked after the sudden departure of head coach Rene Meulensteen.
Last Updated: 15/02/14 3:05pm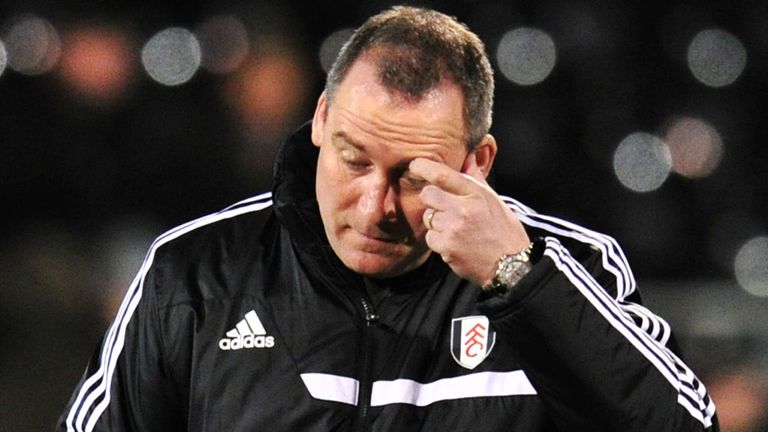 Rene Meulensteen was sacked as head coach on Friday night after the midweek 3-2 defeat by Liverpool kept Fulham at the foot of the Premier League, four points from safety.
Magath was swiftly installed as Meulensteen's replacement and the former Bayern boss must make a swift impact in the remaining 12 games of the season.
Brevett, a former captain at Fulham, feels the squad will be unsettled by Meulensteen's departure and doubts whether Magath can implement his ideas in time.
"The players will be shocked," he said. "Some are players that Meulensteen brought in during January and they just won't know what has happened.
"As players you have got to get on with it, it is your job and you have got to get on with it. They have to take responsibility but it is true, you do also need continuity in what you're being told is expected of you.
"Just as they are getting used to Meulensteen's methods and the things that he wants, he is gone and another manager comes in - it will be very difficult for him with 12 games to go, it doesn't happen over night."
Owner Shahid Khan has shown his ruthless side this season as Martin Jol was previously axed in December - and Brevett fears for Magath if he cannot save Fulham from relegation.
Brevett said: "He has brought a new manager in with 12 games to go, if Magath doesn't keep them up is he going to bring in another manager to get them out of the Championship? How much does Magath know about that division?
"Sometimes when a new manager comes in you get a new kick and hopefully if they do that they might have a chance.
"The confidence is low and it is going to take a completely different mindset, there are a lot of differences between fighting to win things and trying to stay in the league. We will have to wait and see what he comes up with.
"Fulham have flirted with relegation a few times but nothing as serious as we see now, it is massive. Financially and for the fans as well.
"It means everything to stay in the Premier League. They will be doing their upmost to stay there."