Premier League: Fulham manager Felix Magath confident of survival
New Fulham manager Felix Magath is confident they will avoid relegation from the Premier League.
Last Updated: 20/02/14 6:33pm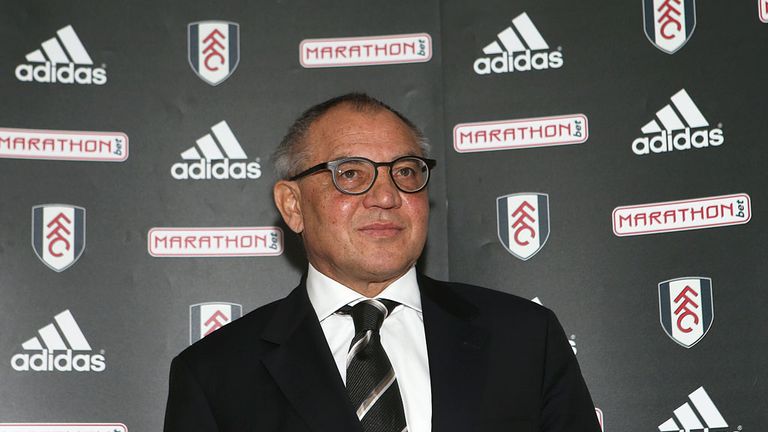 Magath addressed the media at his first press conference ahead of Saturday's game with fellow Premier League strugglers West Brom at The Hawthorns.
Fulham are four points adrift of the Baggies, who lie just above the drop zone, but Magath believes they have enough quality to retain their top-flight status.
"In the next months, we will have a lot of work to avoid relegation but in the first days here, the work we've achieved has been very good," he said.
"I'm sure we will avoid relegation with this team as the players are willing to avoid relegation.
"We have a good atmosphere at the club when we all work together. We are able to avoid relegation and that's now the most important thing.
"Now we have to concentrate on the next 12 games, especially on the game on Saturday against West Brom."
Magath, who has spent his entire managerial working career in the Bundesliga, has earned a reputation as a strict disciplinarian but when asked if he was a tough day, he responded: "No, I am a nice guy.
"Ask Raul about my work, but don't ask players you didn't know here in England. Ask the good players, and then you will get the right answer."
The 60-year-old had told The Sun that Meulensteen had destabilised the squad by changing from an attacking to a more defensive style of play.
But he remained keen to concentrate on the future of the club rather than the recent past, insisting all players will have a chance to impress, regardless of how long they have been at the club.
"I don't care if a player is here 20 years or 20 months or two months," he added.
"It doesn't play a role, I only (care about) how he plays and what he is willing to do."
Magath had been out of work since leaving Wolfsburg in October 2012 following a second spell at the club and he was keen to express his sympathy for sacked Fulham trio Meulensteen, Ray Wilkins and Alan Curbishley.
"I was sacked a few times also," said the German. "I know the situation and I'm sorry for each coach but we have here a situation where the management waited a long time.
"I think if you want to change something, you have to do it now. It was late to change the team and change the atmosphere to have a chance to stay in the league.
"It doesn't look like it worked well enough so I don't care about the reason for the manager before (why he was sacked). I don't know what he had done, I don't care.
"I take over my duties and look forward to doing the best I can."