Premier League: Norwich City boss Chris Hughton remains hopeful of avoiding relegation
Chris Hughton insists he is ignoring mounting pressure and remains focused on keeping Norwich in the Premier League.
Last Updated: 24/02/14 11:30am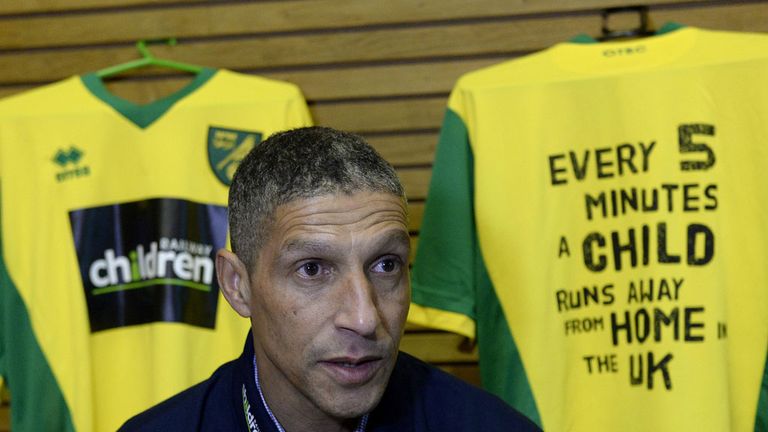 Hughton is the bookmakers' favourite to be the next top-flight manager relieved of his duties following a run of just one win in 11 games.
The Canaries are just one point above 18th place and while chief executive David McNally maintains that Hughton continues to have the support of the board for now, the situation remains constantly under review and indeed warned that the club were ready to move swiftly and had candidates in mind should they decide a change was necessary.
Despite all of the pressures, Hughton says all he can do is focus on the job in hand, which continues against Tottenham on Sunday.
"We are going into the last 12 games of the season and it is a great challenge for us, as it is for another eight or nine teams around us and we have got to make sure we really look forwards to that challenge," said Hughton.
"In a division which has seen a bottom 10 close to each other and where a three-point win can see you move up the division, as we have seen in recent weeks, you have to keep focused and ours will be on winning as many games as we can."
Hughton added: "It is a results business and there are going to be periods where results are going better at other times, that has been shown with clubs that are in the bottom three who at another stage are not.
"You have to look forwards to the next game and make sure that is the best opportunity to get points, so we will continue to do that and our best opportunity is a home game against Tottenham."
Norwich have struggled for goals this season, scoring just 19 in the league with club-record £8m signing Ricky van Wolfswinkel failing to find the net since the opening day.
Hughton, though, is confident the results will follow if Norwich continue to produce consistent performances.
"If we are able to maintain the standard of our play over the last three games, then we will certainly give ourselves every chance," he said.
"The areas where we have found it difficult is getting those goals which we have needed.
"But I don't think anybody seeing us in the last three games would fault our endeavour in trying to get the wins."
1 child runs away from home every 5 mins in the UK, which equates to about 100,000 children every year. Aviva are hoping to raise up to £100k this weekend for Railway Children. All you have to do is tweet/re-tweet messages containing #Take5. For more info, please visit www.railwaychildren.org.uk/take5