Premier League: Alan Curbishley disappointed but accepts Fulham axe
Alan Curbishley was 'disappointed' to leave his advisory role at Fulham but said he respected the decision.
Last Updated: 24/02/14 12:04pm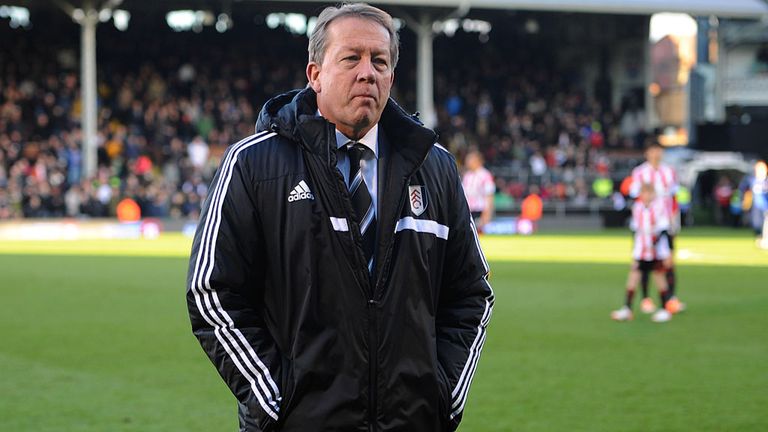 Curbishley lost his job as technical director, along with assistant head coach Ray Wilkins, following the dismissal of manager Rene Meulensteen 10 days ago.
Meulensteen was replaced by the experienced Magath, who decided to appoint his own back room staff at the west London club.
Speaking on Sky Sports News on Monday morning, Curbishley said: "There was a change of manager who decided he wanted to bring his own staff in.
"That's always a consequence of managerial changes. I understood it, I respected it but I was a little bit disappointed because - when I went into Fulham - the role I had was something the club needed.
"Rene had never been a manager before and I was there to advise and offer my opinion on things, as was Ray.
"There are some inexperienced managers in the Premier League such as Tim Sherwood at Tottenham and Garry Monk at Swansea, so there is a role for ex-managers to be mentors.
"But unfortunately it only lasted seven weeks.
"The owner decided after the Liverpool game he was going to make a change.
"Rene will be disappointed, as it was his first stab at management, because the two games previously against Manchester United - where we drew - and against Liverpool, when we led twice, we felt the tide was turning a little bit."
Fulham remain at the bottom of the Premier League table - five points from safety - following their 1-1 draw at The Hawthorns on Saturday when West Brom needed an 87th-minute equaliser to salvage a point in Magath's first game in charge.
Speaking about Magath's main concerns at his new club, Curbishley added: "The glaring thing is the amount of goals Fulham have been conceding.
"If you look at the clubs who have dragged themselves out of the relegation zone this season - Crystal Palace and West Ham - that's been done on clean sheets.
"And they will always give you a chance of getting something from games.
"Against West Brom they got their noses in front but just couldn't get across the line.
"They made a decent start and it's always important to get ahead. They've gone one behind on about 19 occasions this season and history tells you in the Premier League that if you fall behind you don't get back that often."
As for the man himself, Curbishley said of Magath: "He was a fantastic player, top class, been there, done that and won most things.
"He did the double with Bayern Munich and is full of confidence and believes he has the tools to make Fulham survive."