Premier League: Javi Garcia believes he has won over Manchester City fans
Manchester City midfielder Javi Garcia believes he has won over the club's fans after a slow start to his career.
Last Updated: 26/02/14 11:28am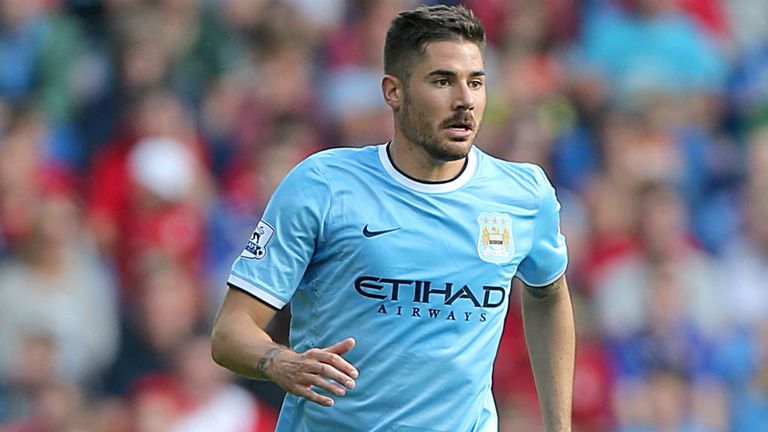 The Spain international, who signed from Benfica for £12.8million in August 2012, was used in a number of roles by former manager Roberto Mancini last term.
Garcia admits the 'stop-start' nature of his initial involvement hampered his progress, but is now enjoying his football more under new boss Manuel Pellegrini.
He said: "It was hard last season because I was only involved occasionally and I found it difficult to get into a rhythm because I might play one or two games and then I wouldn't play for the next two or three - or be on the bench.
"That makes it impossible to get to the level you know you are capable of. That only comes when you have a run of games, so last season was very stop-start for me.
"There have been times when it hasn't been so easy. Sometimes in the quieter moments of a game, you can hear the fans maybe aren't happy with you.
"But things have been different recently and I know I have heard them getting behind me which helps me more."
Important
City tackle Sunderland in the Capital One Cup final at Wembley on Sunday, with Pellegrini's side strong favourites to lift the first significant silverware of the season.
The Etihad outfit remain in contention for trophies on multiple fronts, but Garcia knows all their hard work will have been wasted if they end the season empty-handed.
He added: "This is the most important part of the season because things are coming to a head and we need to play better than ever.
"We have had a great season so far but as Vincent Kompany says, we've won nothing and if we end it with no trophies, all the hard work and goals we've scored will be forgotten and the season would mean nothing.
"I played against Chelsea at Wembley (in the FA Cup semi-final) last season and it was the first time I'd been there in the flesh.
"I was in awe, if I'm honest, and it is one of the best stadiums I've ever played in.
"Now we have the opportunity to play there against Sunderland and if we can beat Wigan in the FA Cup quarter-finals we'll be going there again - so we'll be doing our best to make sure we have three Wembley appearances this season."