Premier League: Everton boss Roberto Martinez praises Romelu Lukaku
Everton manager Roberto Martinez has paid tribute to striker Romelu Lukaku ahead of Saturday's home game with West Ham.
Last Updated: 01/03/14 2:12pm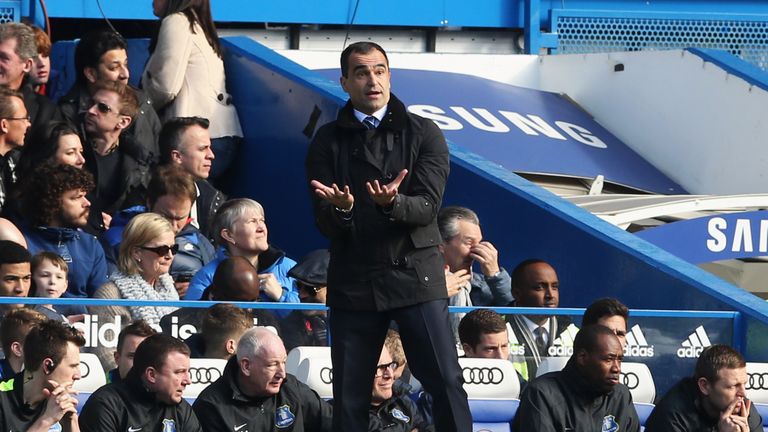 The on-loan Chelsea player has missed their last four matches with an ankle injury but is in contention for the Goodison Park clash.
The Merseysiders have struggled in his absence, with back-to-back league defeats leaving them 11 points adrift of fourth-placed Liverpool, and Martinez is understandably relieved at having his top scorer available for selection.
"As a number nine he is as complete as you are going to get in world football. Something which is a rare breed - to have such a talented footballer having that target man role," said Martinez.
"When you look at his age you are quite surprised by the package he brings.
"When you see him as a player you build a perception of a strong target man who is good with his back to goal and you get such a shock when you speak to him about football.
"He is a very intelligent man who wants to understand the game and I've been very impressed by how he approaches the game.
"He is good in the box as a number nine, attacks the ball well and is a good finisher, but can use the counter-attack with his pace and ball control.
"Romelu has had a terrific season and has a big role to play in our squad."
Martinez believes lessons can be learned from last week's 1-0 defeat to Chelsea, which saw Jose Mourinho's side claim a stoppage-time winner despite struggling to dominate.
That is a quality Martinez is keen to instil in his side as they look to get back into contention for European qualification.
"What you saw (from Chelsea) on Saturday was the know-how and experience of how to get results without being the better side," added Martinez.
"That is a great knack which all the winning sides have and it is important we develop that as well.
"Over a long period you will not play well every single time but it is important if you can get results when the overall performance does not deserve it."