Liverpool captain Steven Gerrard happy to be underdogs in Premier League title race
Liverpool captain Steven Gerrard admits he is happy to be seen as underdogs in the race for the Premier League title.
Last Updated: 03/03/14 2:22pm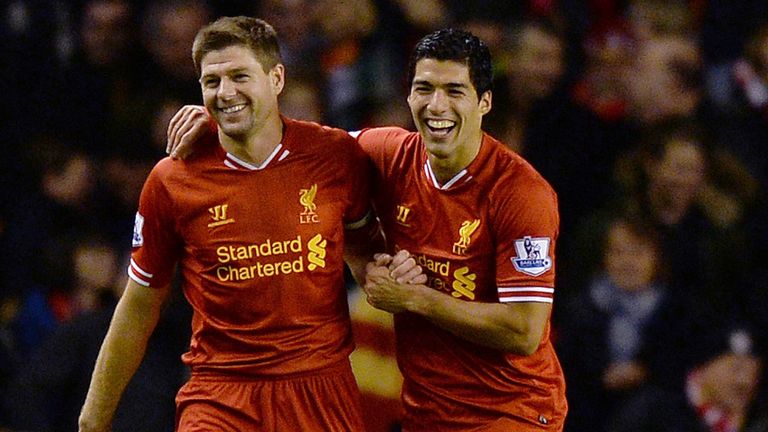 The Reds moved into second spot in the table, four points behind leaders Chelsea, with an impressive 3-0 win at Southampton on Saturday.
Gerrard acknowledges Liverpool are in the mix for the title now with just 10 games remaining this season, with their rivals believing they hold an advantage in having only the Premier League to focus on between now and the end of the campaign.
Gerrard insists Chelsea and Manchester City remain favourites, but accepts their lack of other distractions helps them prepare for their top-flight challenges.
"It does suit us at the moment being underdogs," said Gerrard. "What suits us as well is that we've got a lot of time to prepare.
"We've worked on this formation all week. We chose to play a diamond and I think it shocked Southampton.
"We broke, played on the counter-attack superbly well and could have got more goals."
Meanwhile, Gerrard was again full of praise for Luis Suarez as he marked his 100th Premier League appearance with another man of the match performance against Southampton.
The Uruguay international took his tally to 62 goals in 100 Premier League appearances with the opener at St Mary's and Gerrard believes Liverpool are lucky to have the 27-year-old hit-man.
"I've run out of words to describe him," Gerrard said of Suarez. "We're blessed in this country to have some really top forwards, top, top attacking players.
"But for me, without being biased, he's the best. I've said it many times, I look at Messi and Ronaldo and, yes, they're world-class players.
"But outside of that, you've got (Zlatan) Ibrahimovic and Luis Suarez who are pushing those two really close.
"Performances like this, where he hasn't scored for four or five games, but he's getting assists, he's causing so many problems.
"He's relentless. He's a winner, he's a killer and we're lucky to have him."
Mourinho and Wenger
Chelsea manager Jose Mourinho, meanwhile, insists Manchester City are favourites for the title, despite having guided the Stamford Bridge club to the top of the table.
The Blues are four points clear of Liverpool and Arsenal, with City six adrift, although Manuel Pellegrini's men do have two games in hand.
The Portuguese coach said: "I prefer to have the destiny in my hands, and only City have destiny in their hands.
"If I win every game until the end of the season, all 10 - which we won't - maybe we are not champions.
"If they win all 12 games they have, they are champions. They have their destiny in their hands."
Arsenal boss Arsene Wenger has also moved to play down their title prospects in the wake of a 1-0 defeat at Stoke City, although he rejected claims that the Gunners often suffer dips in form in the closing stages of the season.
When asked how difficult it will be to close the gap between them and Chelsea, Wenger said: "We cannot say it's easy.
"It is difficult, but I expected them to win at Fulham."
When it was put to him that Arsenal are becoming known for losing their way at vital periods, Wenger replied: "I would say look at our results at the crucial point in the season and you would be surprised.
"Somebody says something that is not checked and everyone repeats it and it becomes an opinion, even if the facts don't show it.
"Our end of season has always been very strong."