Head to head
Tom Cleverley has been widely criticised while Jordan Henderson is earning huge praise but who is the better player? Ahead of Man United's meeting with Liverpool, we use Opta data to try to find out...
By Peter Fraser - Follow me on Twitter @SkySportsPeteF
Last Updated: 14/03/14 1:42pm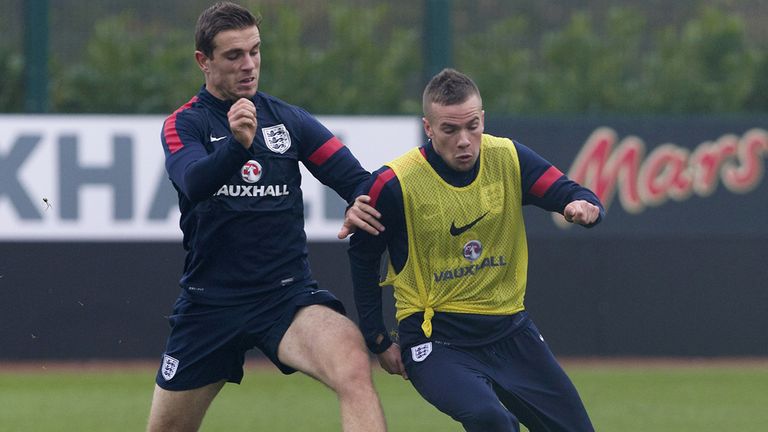 Ahead of Sunday's showdown between the two old rivals, Manchester United and Liverpool have experienced significantly different seasons in the Premier League.
Brendan Rodgers' second-placed Liverpool have come from nowhere to compete for the title while defending champions United have drastically suffered in the post-Sir Alex Ferguson era.
David Moyes' team are struggling in sixth place and 10 points behind their North West foes as they prepare to meet at Old Trafford in what is another significantly important clash.
And at the heart of this weekend's battle could be a factor in the change in fortunes of the two clubs - the form of two young Englishmen, United's Tom Cleverley and Liverpool's Jordan Henderson.
Cleverley has gone from being hyped as the future of English football to being labelled a scapegoat for United's failings in 2013/14 while a petition has been formed against his World Cup involvement.
Meanwhile, Henderson has transformed from a Liverpool flop signing to a star of the season and taking Cleverley's place in England's first team.
Here, we use Opta data to assess the respective form of both Cleverley and Henderson as they prepare to go head-to-head.
APPEARANCES
Injury and his perceived inconsistent form have meant Cleverley has made only 16 Premier League starts this season for United and he has been substituted off in four of those games. He has also been substituted on in three additional games.
Henderson, meanwhile, has started every game of Liverpool's 28 Premier League matches and has been subbed off only once in that time. That means Henderson has played 2499 minutes in the Premier League this season while Cleverley has played only 1449 minutes.
Despite Liverpool not being involved in Europe, Henderson has also made more overall appearances than Cleverley, who has played in the Champions League. For club and country this season, Henderson has played in 36 games while Cleverley has played in 32. This emphasises Henderson's excellent fitness levels.
| | | | | |
| --- | --- | --- | --- | --- |
| Appearances 2013/14 | Premier League Games | Premier League Starts | Premier League Subbed Off | Club & Country Games |
| Tom Cleverley | 19 | 16 | 4 | 32 |
| Jordan Henderson | 28 | 28 | 1 | 36 |
PASSING
Cleverley's passing, what he considers his strength, has still been marginally more accurate than Henderson this season. Cleverley has averaged 0.6 successful passes per minute in the Premier League to Henderson's 0.5.
Cleverley, whose overall passing success rate of 89.6 per cent this season is only less than January signing Juan Mata (90.1%) among his United squad-mates, has also played more passes on average into the final third of the pitch and more successful passes in the opposition's half per minute than Henderson.
This underlines Cleverley's effective passing and technical qualities but he has also been criticised for too often playing the simple ball and that can be epitomised in his creativity.
| | | | |
| --- | --- | --- | --- |
| Premier League Passing 2013/14 | Successful Passes | Passes Into The Final Third | Successful Passes in Oppo Half |
| Tom Cleverley | 935 | 161 | 552 |
| Jordan Henderson | 1300 | 220 | 754 |
CREATIVITY
Cleverley's passing is superior but the difference comes in Henderson's effectiveness in advanced areas of the field. Cleverley (1265 touches) has more of the ball per minute played than Henderson (1957 touches) in the Premier League this season but he is not as clinical and does not get into the same advanced areas. It could be argued this is due to Rodgers preferring more attacking tactics than Moyes.
Henderson creates on average more than one chance per Premier League game (1.8), including goal assists, having contributed 50 overall this season. Cleverley, in contrast, averages less than one (0.6) after only creating 10 chances in the league in the campaign.
The superior running power of Henderson also means he has successfully completed 13 more dribbles with the ball this season than Cleverley as he advances into attacking areas of the field.
GOALS
The biggest criticism of Henderson would be in his ability in front of goal. He is too often wasteful with a chance to shot and his finishing can frequently be erratic and off target. For that reason, despite getting into more goalscoring positions than Cleverley, his statistics are poor.
Henderson has scored only three goals in the Premier League this season from 34 shots with a shot conversion rate of 8.8% and shooting accuracy of just 41.2%.
Cleverley has scored even less goals with just one to his name in the league in 2013/14 but his shooting accuracy of 62.5% and shot conversion rate of 12.5% from just eight shots are both superior to Henderson.
| | | | | |
| --- | --- | --- | --- | --- |
| Premier League Shooting 2013/14 | Goals | Shots | Shooting Accuracy % | Shot Conversion Rate % |
| Tom Cleverley | 1 | 8 | 62.5 | 12.5 |
| Jordan Henderson | 3 | 34 | 41.2 | 8.8 |
CONCLUSION
Cleverley is the better technician. His passing and shooting are more accurate and he can provide a touch of class and control when confident. But his fitness and physical attributes are disappointing.
Henderson has made more appearances and is a more dangerous opponent in an attacking sense when creating for team-mates such as Luis Suarez and Daniel Sturridge. His pace and endurance mean he is a source of non-stop energy and danger.
This is what means the Liverpool man has had such a good season. In the hustle and bustle of the Premier League, Henderson's superior running ability and skill in creating chances mean he is ideally suited for the end-to-end nature of England's top flight.
If it develops into an open game at Old Trafford on Sunday, expect Henderson to come out on top while Cleverley will want to keep a lid on the game by maintaining possession.