Ray Parlour: Liverpool have better chance of winning Premier League than Arsenal
Ray Parlour believes Liverpool have a better chance of winning the Premier League title than his old club Arsenal.
Last Updated: 17/03/14 5:06pm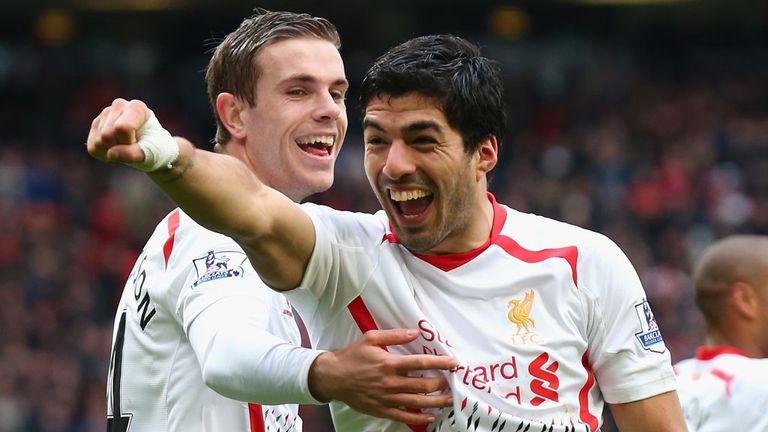 Liverpool and Arsenal both moved to within four points of table-topping Chelsea with important wins at Manchester United and Tottenham respectively on Sunday, but Parlour believes the Merseysiders are more likely to last the distance in the title race.
He told Sky Sports Football Club on Sky Sports News Radio: "The firepower that Liverpool have got with (Luis) Suarez and (Daniel) Sturridge - these youngsters are playing a lot better as well - they're playing really well.
"Steven Gerrard has been excellent and is such an important character to have in your team as well in that midfield area. Raheem Sterling has improved and Jordan Henderson is having a great season.
"if you look at the firepower you'll always have Suarez and Sturridge in your team probably more than (Arsenal's Olivier) Giroud."
Manchester City, currently six points off the lead with three games in hand, have their destiny in their own hands after holding on for a 2-0 win at Hull City on Saturday, but Parlour expects more twists and turns before the end of the season.
He added: "At this stage of the season the pressure does kick in. There'll be teams you're playing against that you expect to beat but they'll be fighting relegation so there's no easy games.
"It's going be so competitive. It's fascinating how it will end with Chelsea dropping points at Aston Villa and Manchester City getting a great result after losing their captain.
"There are big games next week now. Arsenal play Chelsea; Liverpool play Man City at home and Chelsea at home so there's a few more twists left yet. It could go down to the wire.
"You look at those four teams at the top of the league and they've all got a very good chance of winning it because there could be lots of 'six-pointer' games as they say. It's all about how you're playing, how you're recovering, who's going to get injured."
"I still think City are the ones to beat. I just think the squad they've got, the firepower they've got up front - (Sergio) Aguero is going to be important, he needs to get back very soon - they've got that little bit more than the other teams.
"But certainly Liverpool (stand a chance) with their firepower and the way they're playing, the way Brendan Rodgers is going about every game."
To hear more from Parlour on the title race, as well as Danny Mills on Manchester United and Chelsea's Champions League hopes, and how long David Moyes can keep his job, listen to the full Sky Sports Football Club show via the Soundcloud player below.