Arsenal's Abou Diaby insists he never thought of giving up despite his injury problems
Arsenal midfielder Abou Diaby insists he never thought of giving up despite his unlucky run of injuries.
By Patrick Haond
Last Updated: 18/03/14 4:57pm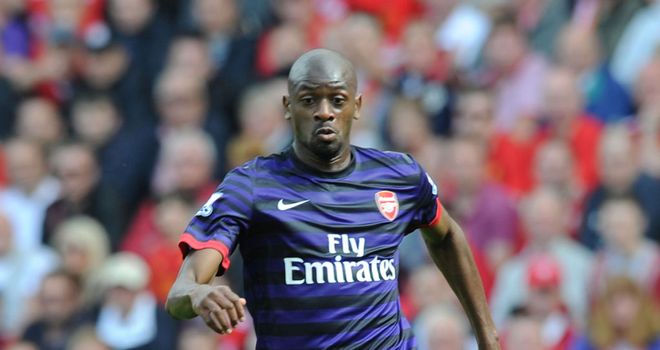 Diaby has been out of action since last March after suffering a serious cruciate knee ligament injury.
The 27-year-old, who has seen his time at Arsenal blighted by injuries, is currently working on his rehabilitation in his native France.
Diaby says he never doubted he would return to fitness and hopes to get back to playing before the end of the season.
"I never had such a long break," Diaby told France Football. "I never had a knee injury and it is really weird. You can feel physically there is something different.
"But I learnt a lot from my injuries. I can keep things in perspective.
"Even now I am very close to the end of my specific work, I keep things in perspective.
"I can master my impatience. I want to be back being strong, very strong and perfectly at ease in my body.
"I work hard without asking questions. I work hard because I know in the end I will play again.
"I am still a high level footballer in my mind, otherwise I would have given up. But I never think to give it up.
"It doesn't mean I never had difficult moments, but I have always bounced back. Some people experience much more difficult things in their lives. I know my reward will be to have fun playing again.
"I will take stock with Arsenal medical staff early in April, but I hope to resume collective training sessions very soon.
"My priorities? Feeling fine and play again before the end of the season.
"I don't think I will be scared to play. I trust my body. Nowadays I feel strong, but I know coming back to London I will also have some changes. I am watching closely my diet and recovering periods."
The all-action midfielder also claims he has not given up hope of making France's squad for this summer's World Cup finals.
"The French team? I have never abandoned the idea to go to the World Cup," added Diaby.
"I have always kept that in a corner of my mind to go on working. As soon as I will be back on the pitch, everything is possible."