Premier League: Everton boss Roberto Martinez defends loan policy
Roberto Martinez has defended his policy of bringing in players on loan at Everton, insisting it is "part of the game".
Last Updated: 10/04/14 7:19pm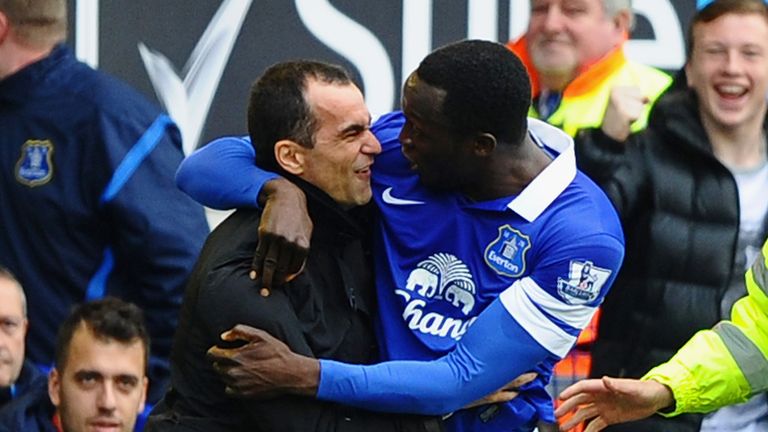 The Toffees currently have three players on loan who have featured prominently in their first team this season - forwards Romelu Lukaku and Gerard Deulofeu from Chelsea and Barcelona respectively, and midfielder Gareth Barry from Manchester City.
Last week, Arsenal boss Arsene Wenger, whose side are battling with Everton for a Champions League spot this season, branded the loan system "indefensible", suggesting temporary moves between top-flight sides should either be banned or that players should be allowed to face their parent clubs.
There was further media scrutiny of Everton's use of the system in the aftermath of their 3-0 win over the Gunners last weekend, which left Martinez's fifth-placed side just a point and a place behind Wenger's with a game in hand.
However, the Spaniard has dismissed the criticism.
"I accept everyone's opinion but the loan system has to be part of the game," he said. "Clearly from our point of view the loan system was vital as we needed it to finish our squad and to criticise that would be ridiculous.
"If you can be creative with the way you can use your resources, that is part of the game.
"The two young players (Lukaku and Deulofeu) needed the opportunity to develop and Gareth Barry has come in and his experience has been very important.
"Loanees will never be successful unless you have a strong core of players and that is what we have.
"What is difficult is finding a loan relationship which works because not all of these have been successful, so it has its pros and cons."
Martinez also pointed out that he has used a number of young players in his first team this season to aid their development, which is not always the case at other clubs.
He suggested that it is often the stockpiling of young talent at top sides that leads to the availability of players on loan.
"You could find many examples of players who have not been treated fairly just because they are not part of the club's long-term future and are seen just as part of a support squad," he added.
"Some clubs have very much in mind the idea of developing young players and giving them opportunities and we want to believe we are one of those.
"We have had, at times, four under-21s in the line up and two on the bench and that is an unknown quality.
"Other teams are very much about first-team affairs and development players are completely separate so it can be very difficult for a young player to have an opportunity in the first team.
"You will always get the top clubs investing a huge amount of money thinking about the progress of the first team and not a young player, which is a real shame."
One of the young players to gain first-team experience at Everton this season is John Stones, who has deputised for injured England defender Phil Jagielka.
Stones is likely to continue in the centre of defence for the Toffees at Sunderland on Saturday after Martinez admitted that Jagielka was still 10 days away from returning.
The 31-year-old will feature in a behind-closed-doors 90-minute game to test his fitness after missing the last seven games with a hamstring problem.