Premier League: Tim Howard says Everton are up for the fight
Tim Howard says Everton will not feel pressure from Arsenal in the race for fourth after battling past Sunderland.
Last Updated: 16/04/14 6:59pm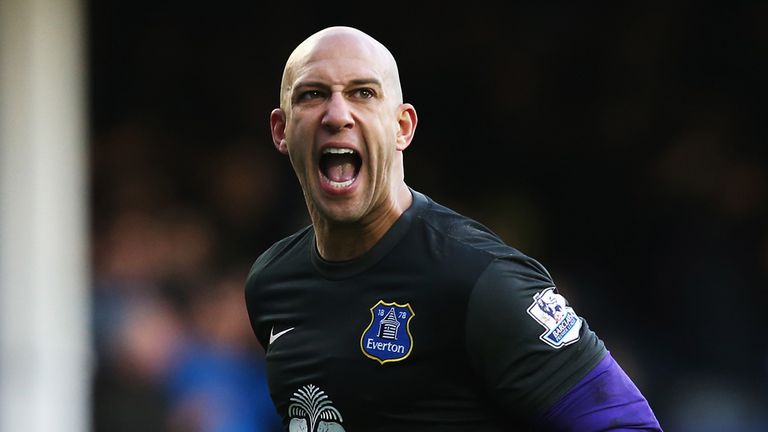 A Wes Brown own goal at the Stadium of Light was enough to seal a 1-0 victory as Everton made it seven straight wins to climb above Arsenal and into the final UEFA Champions League spot.
Roberto Martinez's side have earned plaudits for their style of play this season but they were not at their free-flowing best on Saturday and had to fight to go home with three points.
"You don't mind it being a bit scrappy every now and then because you almost want the confirmation that we've got it in us," Howard said in the Liverpool Echo.
"We know we can play good football but we never want to get away from that Everton fighting spirit, that ability to dig in. Games like this remind us that's still in us which is important.
"Even at 1-0 down they kept coming because they had a lot to fight for and it was a really tough game."
Everton had been warned by Martinez that facing Sunderland would be a hard game but, having negotiated the test, Howard believes they can now hold off the challenge of Arsenal in their remaining five fixtures.
"The manager drilled into us that it would be tough," said the goalkeeper ahead of Wednesday's clash with Crystal Palace. "Now we can count them on one hand. We're going to tick the games off.
"We're in a good mental state. We're performing well. We feel fluid and there's a good energy in the dressing room. We won't feel pressure on our back from Arsenal.
"Anything can happen. There are so many 'ifs' and 'buts' but if we keep fighting we'll finish strong so hopefully that can continue."
The clean sheet against Sunderland was the 100th of Howard's Everton career and a record he is proud of, but he acknowledges that shutting out opponents is a team effort.
John Stones has caught the eye with his recent performances in defence and will give Martinez a dilemma when club captain Phil Jagielka returns to full fitness.
Howard said: "Sometimes you learn a lot about people when they're thrown into the fire. With our captain getting injured and us having to seek a very quick solution it's sink or swim time. So it says a lot about him and it's helpful to get a run of games for him.
"It's hard for the manager. Injuries are tough because before Jags got injured we were playing brilliantly and he was doing brilliantly and you shouldn't lose your place because of an injury.
"Then Stonesy has been playing so well. We'll let the manager sort it out."