Arsenal boss Arsene Wenger believes Manchester United should not have sacked David Moyes
Arsenal manager Arsene Wenger believes Manchester United should have given David Moyes more time in the job.
Last Updated: 25/04/14 3:14pm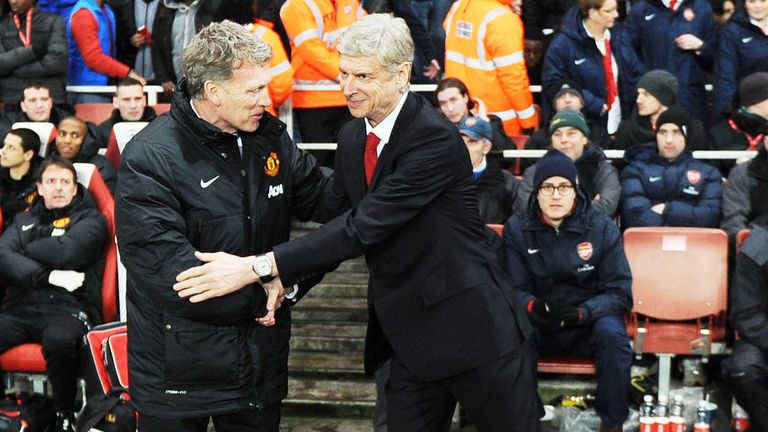 Wenger is the longest serving manager in the Premier League, having arrived at Arsenal in 1996, and he is dismayed by the quick turnaround in managers throughout the country.
Moyes was sacked on Tuesday, just 10 months after replacing Sir Alex Ferguson at Old Trafford, and United confirmed his dismissal the day after the news was first leaked.
"I don't know the details," said Wenger. "It was just surprising. In these kinds of situations you want the managers to be informed first, eye to eye as we are used to. I didn't look like it was like that.
"But what I regret most is he has been sacked, because it is a big experience in the Premier league. He has shown quality, and you would have loved him to get more time.
"If you want quality people in any job, you need to give them time to develop and to become good, or people with the quality will not come into our job any more.
"The average expectancy of an English professional club at the moment is 11 months, and that is quite unstable. Every guy who is married, has a family, will have a big hesitancy before he goes into that game.
"That means the quality of the coaching and the quality of the managing is under threat."
Wenger stopped short of backing the view of the League Managers Association, who described United's conduct as "unprofessional".
"I don't know enough about it," he said.
But Wenger is adamant the appointment of Moyes should not be viewed as a failure, and people should remember he arrived at Old Trafford on the recommendation of his predecessor.
"I think Alex Ferguson was in a good position to give some credit to his follower, and the fact he got his support was very important for the guy who came in," he said.
"The important factor for the guy who came in was have the support of Alex Ferguson. And I think it was important and it was not a mistake."
Crystal Palace boss Tony Pulis believes that United's reputation has been damaged by the way they handled the sacking of Moyes.
"Personally I'm disappointed, really disappointed for David. I think he deserved longer and the way it was handled was disappointing as well," said Pulis.
"Manchester United for the past 26 years have been a beacon of how to run a football club in respect of stability and how the club was built and how it was run.
"A lot of that has been washed away over the last few days in how they handled the situation. That's my personal view."