Premier League: Everton boss Roberto Martinez says Tottenham talk a compliment
Roberto Martinez says speculation linking him with Tottenham proves he is doing a good job at Everton.
Last Updated: 09/05/14 2:50pm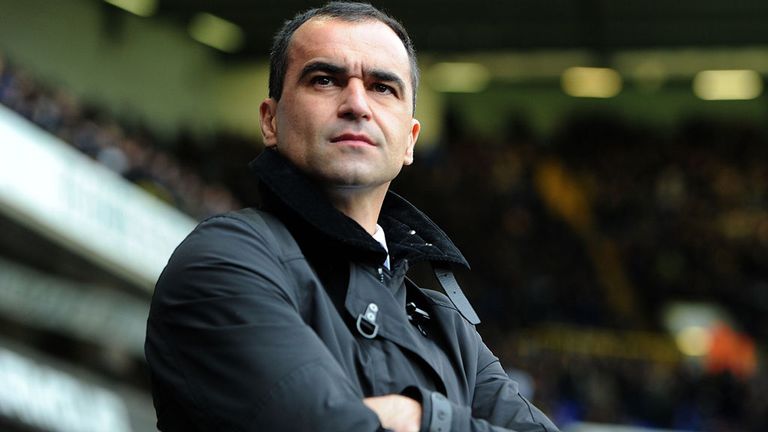 Three defeats in four matches have ruined Martinez's hopes of securing UEFA Champions League qualification in his first season on Merseyside, but Everton are all-but guaranteed to finish fifth.
They currently lead Tottenham by three points, with Spurs expected to replace Tim Sherwood as manager over the summer, and Martinez is among the names linked with White Hart Lane.
Asked to comment on the rumours, he said: "It is a little bit as I always answer - any sort of speculation we take as a real footballing compliment.
"This is the time you are going to get rumours, with talk about new squads and the next moves.
"From our point of view, it means we have done something right - that, as a football team, we are performing well. That affects players, members of staff and managers. We take it in a positive manner and just carry on working hard."
Among Martinez's most eye-catching achievements this season has been the successful introduction of Ross Barkley and John Stones as first-team regulars.
Defender Stones' recent progress has been rapid enough that he is now being mentioned as an outside chance for a World Cup place.
Martinez said: "If Roy Hodgson decides the youngsters are to be called up to the World Cup, I can guarantee you they are ready.
"John Stones has shown he is in a very good moment of form and at a very good level. Character-wise, I can guarantee anyone that he is ready to embrace whatever challenge comes his way.
"The truth is that the young players have had a huge role. You need to judge players by their performances. The age shouldn't affect the role of a player in a national team.
"Players like Ross Barkley and John Stones have been playing beyond their years and their performances have been of a calibre whereby you know they will help, whatever team they represent."